NOTICE:
Because of COVID-19, all
events are Cancelled.
Event page will be updated when restrictions are lifted.
---
~ Out & About Weekend Edition ~
Covering Yosemite National Park, Mariposa County, Eastern Madera County,
Tuolumne County and Calaveras County

Official Yosemite Guide:

('Click' link above to see large PDF file)
Your Event Not Listed?... Just send us an Email: Sierra Sun Times
(The weekend edition is usually up-dated on the Wednesday before the weekend)
________________________________________________________________________________
________________________________________________________________________________

Coulterville Happenings
Weekly

: "Dine at the V"
Dinner $6, served 6-7 p.m.

every Wednesday

at the Tom Jenkins VFW Post #9454, 5019 Main St., Coulterville
Monthly
: Northern Mariposa County History Center (NMCHC) Fund Raising Breakfasts
Held the second Sunday of every month.
Enjoy breakfast from 8 'till 11 a.m.
Call

209-878-3750 or go online to:
CoultervilleHistoryCenter.org
for additional information.


Upcoming Northern Mariposa County History Center
Sunday Breakfast Dates for 2020

:
April 12, May 10, June 14, July 12,
August 9, September 13, October 11, November 8, December 13

This Weekend:

Sunday, March 8 -

See flyer below
---
BINGO First Friday of Every Month
See you at BINGO!
'Click' for more information
CANCELLED
---
Elizabeth Specht Memorial Miniature Show
Returns to the Sierra Artists' Gallery
in Mariposa March 9-29
---
---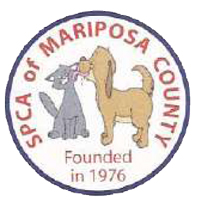 SPCA Hours & Days of Operation:

Wednesday through Saturday
Adoption: 10:00 A.M. to 3:00 P.M.
Yard Sale: 8:00 A.M. to 3:00 P.M.

"Please Spay and Neuter Your Pets"

Mention above AD for a Discount
Free coffee every Saturday morning when you shop at the SPCA Yard Sale.
Go into the shelter office and enjoy a cup!

You can help the shelter animals by donating items to the "forever" yard sale located at the shelter.
For drop off, items must be in working condition, and clothes must be clean.
Located at 5599 Highway 49 North just before the county recycling center.
Every day, folks drop off really cool stuff and we offer them for sale at bargain prices.
So, come by and shop till you drop!

This is a real shopper's paradise! For more info call the shelter at (209) 966-5275.
---
________________________________________________________________________________

Eastern Madera County, Oakhurst & North Fork


________________________________________________________________________________

NOTICE: Because of COVID-19, all events are Cancelled.
Event page will be updated when restrictions are lifted.
---
Friday, March 13
7:00 p.m. - 10:00 p.m.
COST - FREE!
Join Yosemite Wine Tails for live music every Friday night.
Amazing local talent, anyone can join! Must be 21+ to attend.
---
MARY POPPINS: March 13th - April 5th

By Disney Theatrical Productions and Cameron Mackintosh
One of the most popular Disney movies of all time is capturing hearts
in a whole new way: as a practically perfect musical!
The jack-of-all trades, Bert, introduces us to England in 1910 and
the troubled Banks family. Young Jane and Michael have sent
many a nanny packing before Mary Poppins arrives on their doorstep.
Using a combination of magic and common sense, she must teach
the family members how to value each other again...
Showtimes
Friday, March 27 at 7:00 P.M.
Saturday, March 28 at 7:00 P.M.
Sunday, March 29 at 2:00 P.M.
MATINEE PERFORMANCE
Friday, April 3 at 7:00 P.M.
Saturday, April 4 at 7:00 P.M.
Sunday, April 5 at 2:00 P.M.
Visit
Golden Chain Theatre
website for future shows
Golden Chain Theatre, 42130 Highway 41, Oakhurst
---
February 22 through May 3
The exhibit will be on display at the Yosemite Museum Gallery from
February 22nd through May 3rd, then travels on to Kings Art Center in Hanford,
Carnegie Art Center in Turlock, and Gallery Row Art Center in Oakhurst.
Visit Facebook for more information
---
Oak Zen Meditation
Sunday, March 15
10:00 A.M. – 12:00 P.M.
Bodhi Oak Zen Sangha is led by Rev. Myogo Mary-Allen Macneil, a Zen priest in the
lineage of Shunryu Suzuki Roshi, the founder of San Francisco Zen Center.
Sunday Meditation session consists of two 25-minute periods of sitting meditation split
by 10 minutes of walking meditation, service, dharma talk, and tea.
Both beginning and experienced meditators are welcome. Meditation instruction is available.
Donations are gratefully accepted but not required.
For further information visit Bodhi Oak Zen on Facebook, email mamacneil@sti.net, or call (559) 642-7470
________________________________________________________________________________
Calaveras County/ Angels Camp/ Murphy's
________________________________________________________________________________
Calaveras County Visitors Bureau
________________________________________________________________________________
Tuolumne County/ Sonora/ Groveland
________________________________________________________________________________