December 25, 2017 - All across the country, America's public lands are becoming winter wonderlands. As snow falls and temperatures drop, America's public lands take on a whole new personality, revealing a spectacular wonder. While the days may be colder and shorter, they are still full of adventure -- whether you like to ski, snowshoe, hike or just enjoy the frosty view.
Check out 20 awesome places to visit during the winter. We hope you find time to explore this season!
Great Smoky Mountains National Park in Tennessee and North Carolina

Winter at Great Smoky Mountains National Park is generally moderate, but when Jack Frost finally arrives at the park, it is a breathtaking sight. At higher elevations, storms can cover the mountains in 2 feet of snow, while lower elevations get a dusting of snow a few times a year. This gorgeous shot was taken at the park's Sparks Lane in Cades Cove. Photo by Christopher Ewing (www.sharetheexperience.org).
Apostle Islands National Lakeshore in Wisconsin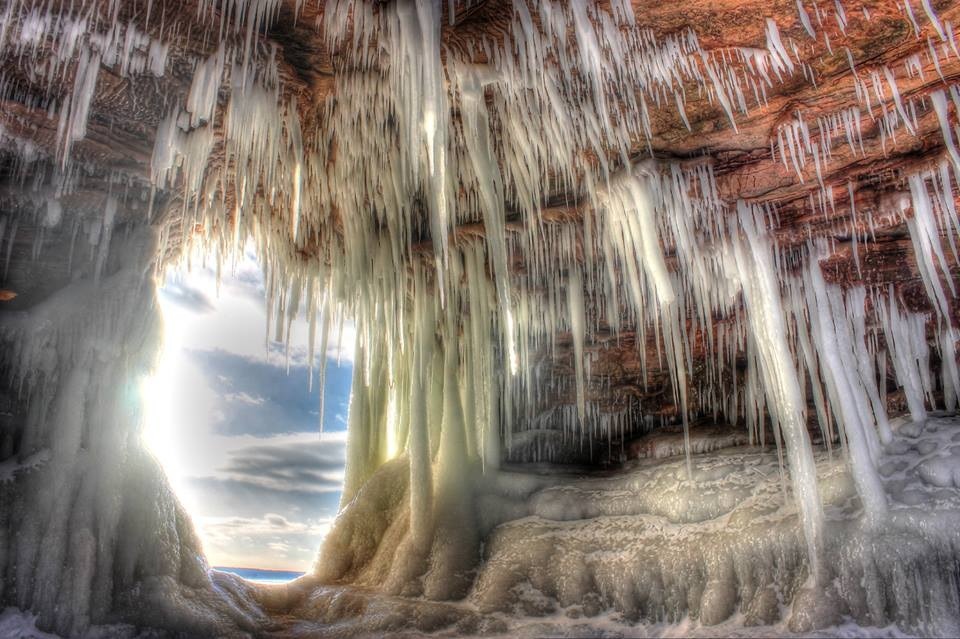 A visit to the ice caves at Apostle Islands National Lakeshore is a once-in-a-lifetime experience. Accessible by foot when Lake Superior freezes over -- which doesn't happen every year -- the caves are a fairyland of needle-like icicles. The formations change from chamber to chamber and from day to day. It's a very cool experience. Photo by National Park Service.
Loess Bluffs National Wildlife Refuge in Missouri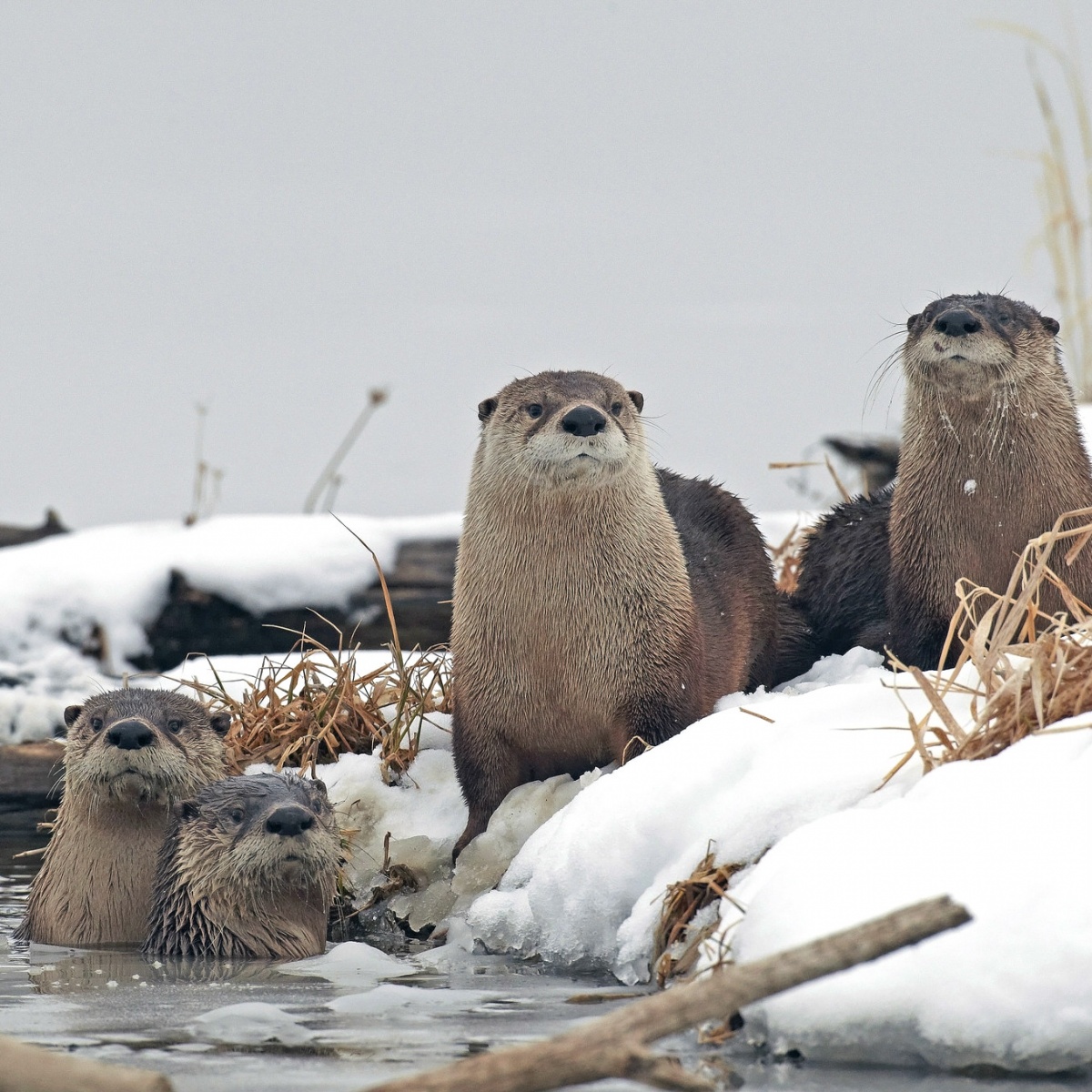 One of nature's most social and playful creatures, river otters have big personalities and even bigger appetites. Often seen in groups, they can be observed hunting and frolicking year-round at Loess Bluffs National Wildlife Refuge. In winter, you might even catch otters sliding across the ice on their bellies. Fur and friendship keep them warm. Photo courtesy of Kenny Bahr.
Rocky Mountain National Park in Colorado

Everywhere you look, you can find patterns in Mother Nature. Cracks in Dream Lake at Rocky Mountain National Park create a gorgeous but perilous, natural tapestry. Always test ice before walking on it and never take chances. Besides hiking in winter, you can explore Rocky Mountain's spectacular mountain environments by snowshoeing, cross-country skiing, sledding and wildlife watching. Photo by Carl Finocchiaro (www.sharetheexperience.org).
Catoctin Mountain Park in Mayland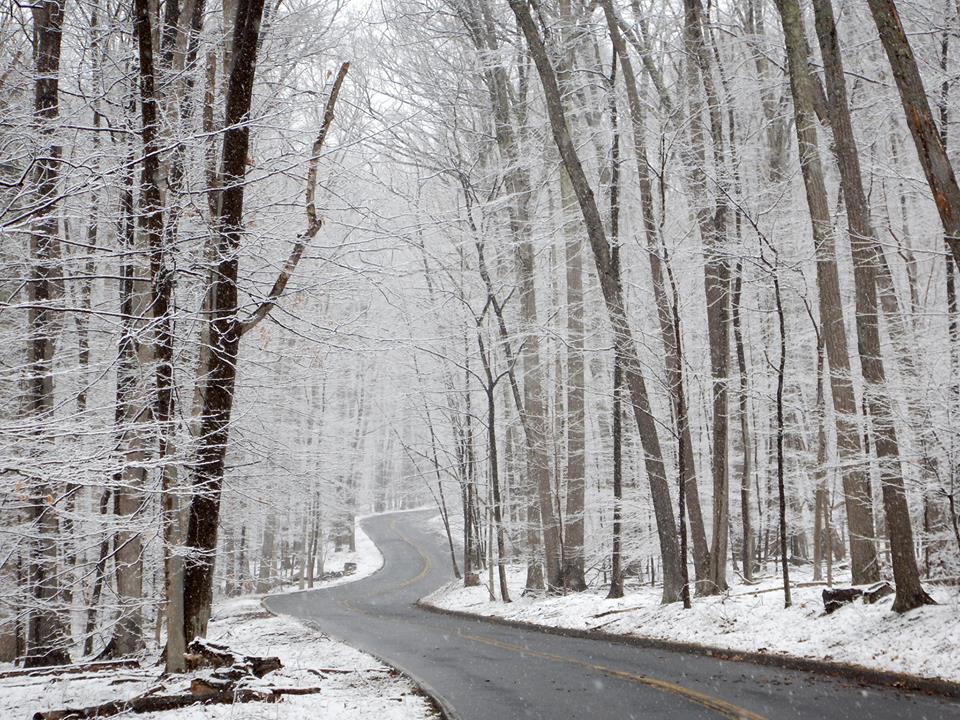 Nestled within the mountains of Western Maryland, Catoctin Mountain Park provides a getaway from the hustle and bustle of nearby Washington, D.C., and Baltimore. The park has 25 miles of hiking trails, popular trout fishing streams, great camping spots, horseback riding paths and beginner skiing areas -- making it as fun as it is lovely. Photo by John Zuke, National Park Service.
Crater Lake National Park in Oregon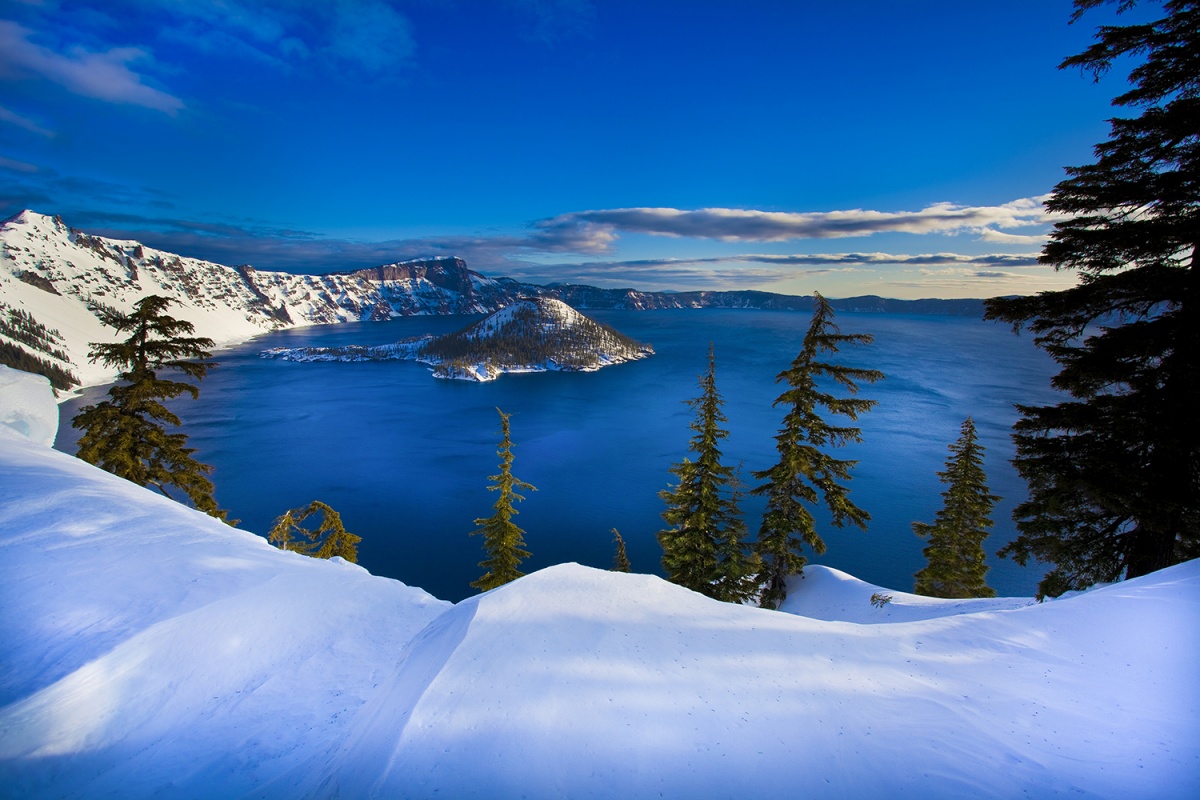 No place in the world is like Crater Lake National Park, and there is no time better than winter to witness this park's wild beauty. With an average of more than 500 inches of snow a year, Crater Lake offers wonderful opportunities for winter recreation. Here you can go snowmobiling, skiing, snowboarding and sledding. Snowshoeing around the rim of Crater Lake is the perfect way to experience this stunning volcanic feature -- at nearly 2,000 feet, it's the deepest lake in the United States! Photo of early morning light from the park's rim by Vince Warren (www.sharetheexperience.org).
Lake Coeur d'Alene in Idaho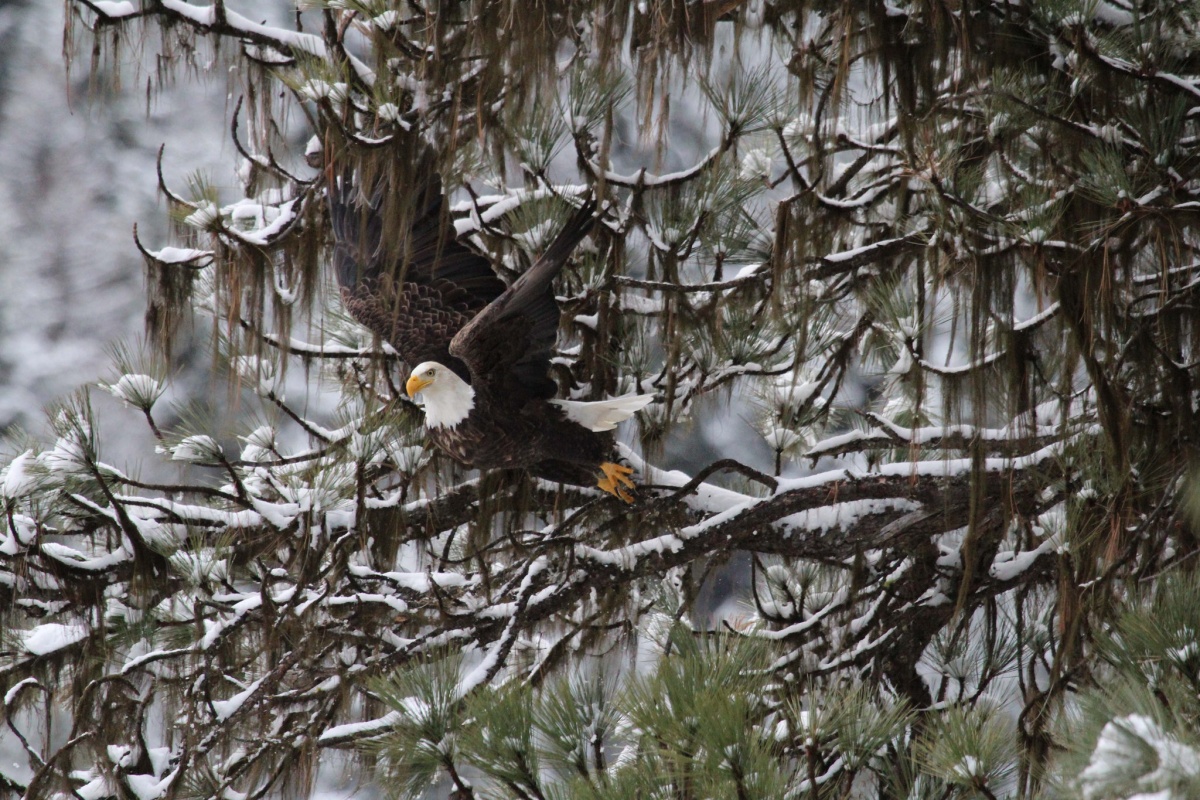 In many parts of the country, it's rare to catch a glimpse of a bald eagle, but imagine seeing scores of them in a single day. Welcome to Lake Coeur d'Alene in the winter! With a plentiful supply of spawned-out kokanee salmon, this lake is a favorite wintering spot for eagles. From November to February each year, the Bureau of Land Management records the eagle migration -- a record 240 eagles were spotted in just one day in 2013. The spectacle becomes a regional attraction, with activities, tours and boat rides on the lake. Photo by Bureau of Land Management.
Devils Tower National Monument in Wyoming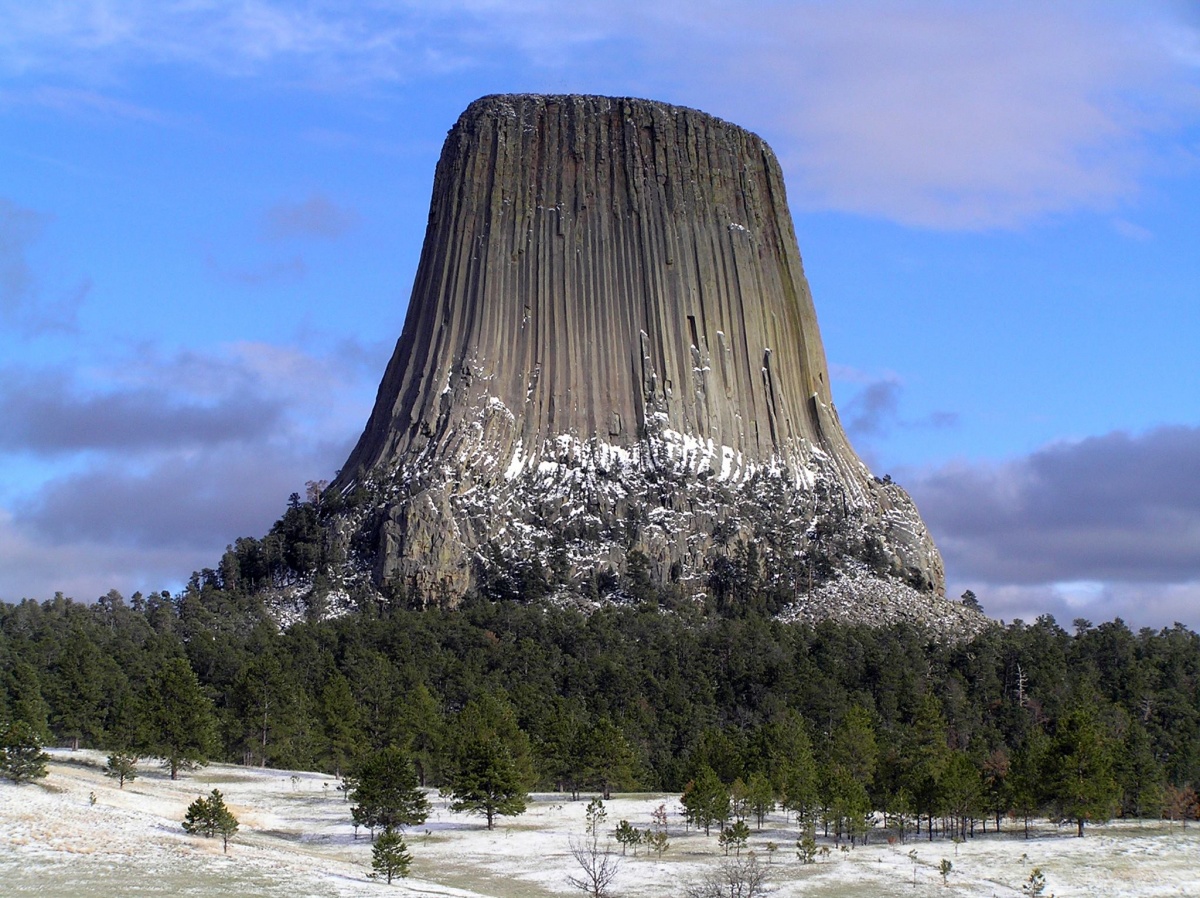 Snow clings to the jagged sides of Devils Tower National Monument. This astounding geologic feature is considered sacred to the Northern Plains Indians and other tribes, who call it "Bear's Tipi" or "Bear's Lodge." Hundreds of parallel cracks make it one of the finest traditional crack climbing areas in North America. Beyond climbing, other winter activities include hiking and cross-country skiing, but a word of caution: trails are not maintained during the winter months. Photo by National Park Service.
Gates of the Arctic National Park in Alaska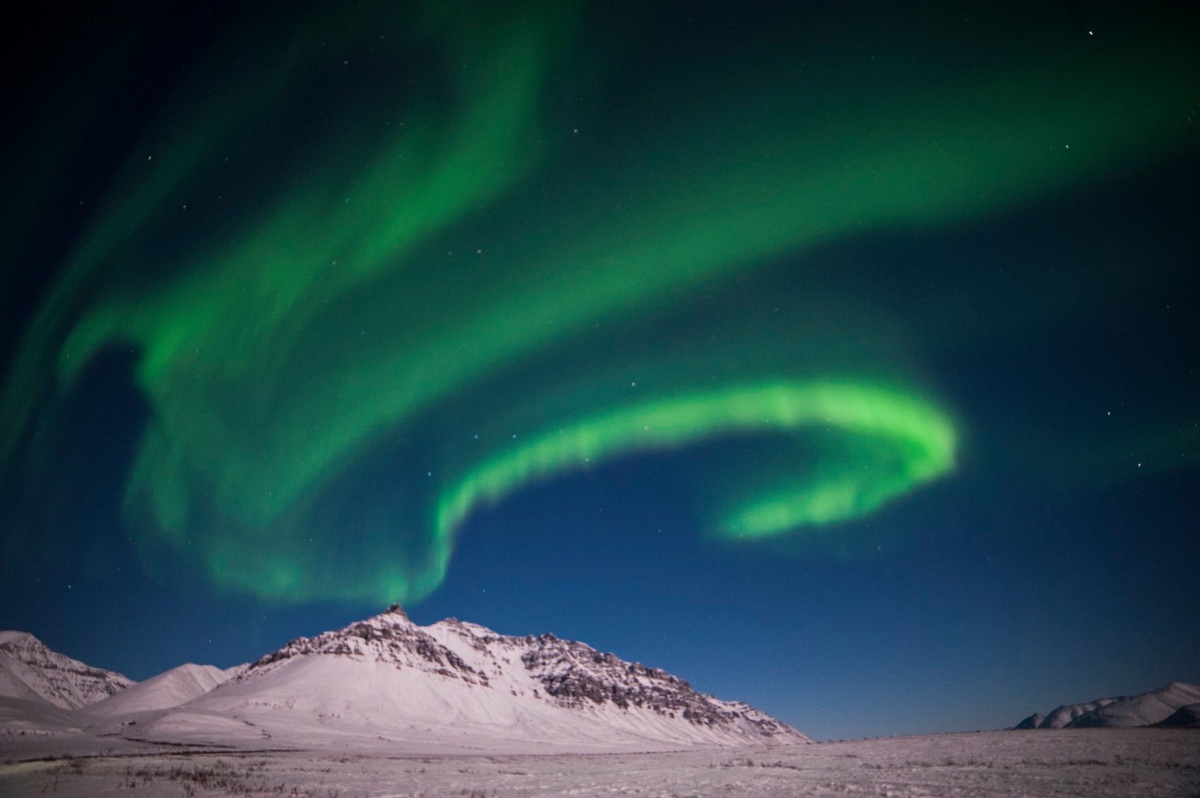 The Northern Lights swirl over Gates of the Arctic National Park & Preserve. From November to March, most activity ceases in Alaska's ultimate wilderness while -20ºF to -50ºF temperatures persist. The dry interior climate sees little snow, but what does fall stays to wrap land and rivers in ice and silence. Photo by DevDharm Khalsa, National Park Service.
Grand Canyon National Park in Arizona

Winter brings a slower pace to Grand Canyon National Park. At one of the most visited national parks, winter visitors find smaller crowds and paths less travelled -- but they need to be prepared to take it slower with ice and snow. While it often snows on the North and South Rims of the Grand Canyon, rare large storms can bring snow all the way to the bottom of the canyon, which can make for some pretty awesome photos! Photo from South Rim Historic District by Michael Quinn, National Park Service.
Kulm Wetland Management Area in North Dakota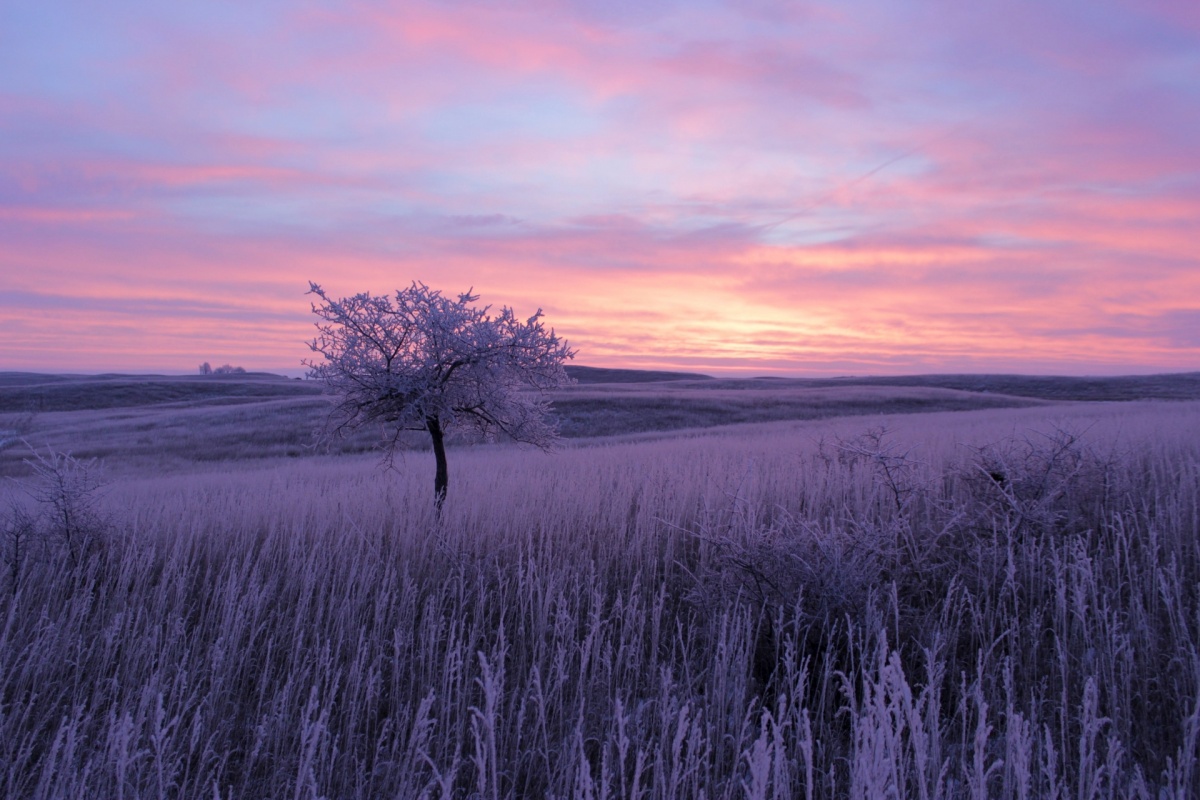 Kulm Wetland Management District is in the heart of a prairie landscape marked by numerous wetlands called potholes. The area's wetlands and grasslands provide habitat for waterfowl and other wildlife species. In the winter, visitors can fish, bird watch or enjoy the dawning of a new day. Photo by Krista Lundgren, U.S. Fish and Wildlife Service.
Lassen Volcanic National Park in California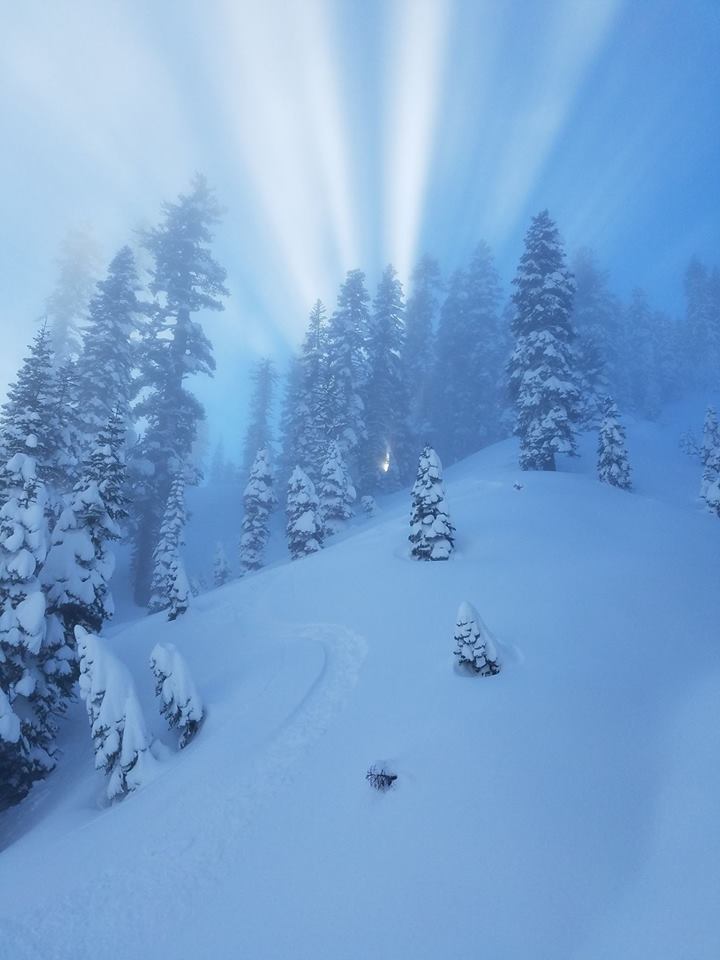 Lassen Volcanic National Park has a lot to offer in the winter. Silent, snow-covered volcanoes hide magma beneath their calm surfaces. Clues to the park's three million years of volcanic activity show up in steam vents, boiling springs and bubbling mudpots. Whether you are looking for a contemplative snowshoe trip, family time playing in the snow, or challenging cross-country skiing, Lassen Volcanic is a winter playground. Photo by Mike Matiasek, National Park Service.
Great Basin National Park in Nevada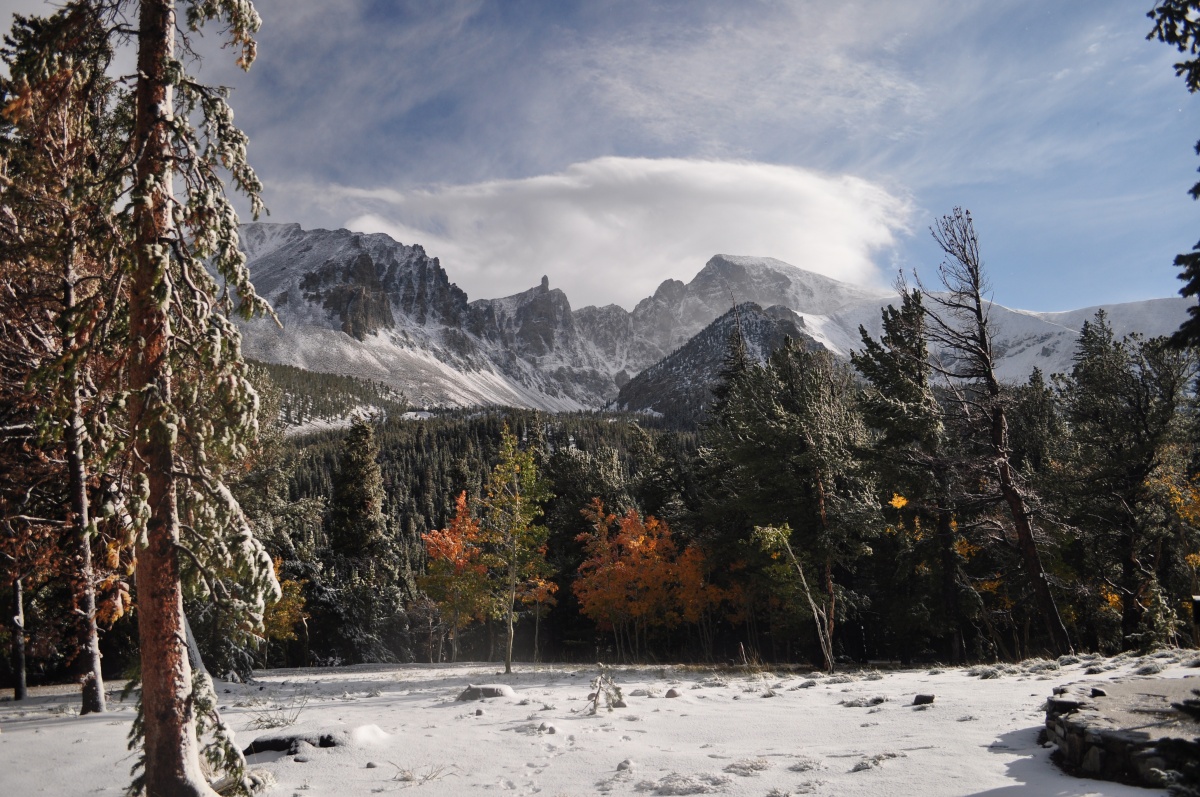 If you haven't visited Great Basin National Park during winter, you are missing out. Frost delicately ornaments every feature of the park from high mountain peaks to low stream beds. Trails and roads are explored by a few adventurous visitors on skis and snowshoes, and the wildlife leave tracks in the fresh powder. Pictured here is the park's Wheeler Peak by Karen Robinson (www.sharetheexperience.org).
Iditarod National Historic Trail in Alaska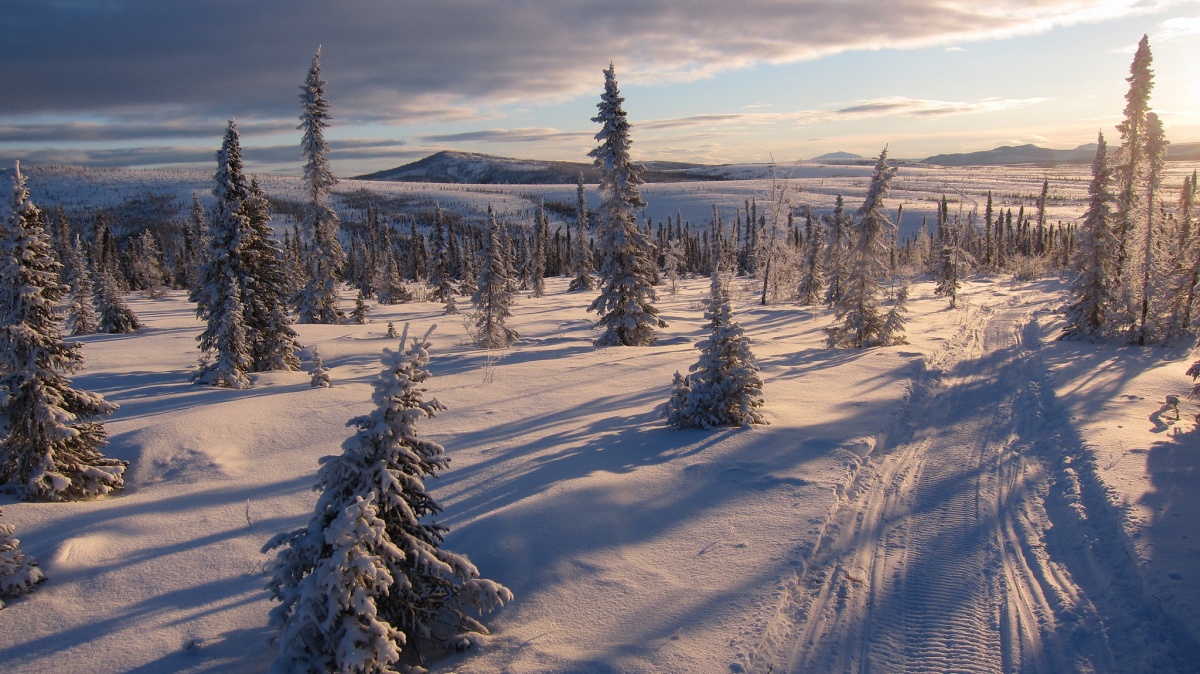 The Iditarod National Historic Trail encompasses a 1,500-mile system of winter trails that first connected ancient Alaska Native villages, opened up Alaska for the gold rush and now plays a vital role for travel and recreation. Maintained by the Bureau of Land Management, the trail is now most closely identified with the famous annual sled dog race. The race, which starts in March every year, challenges the racer and the 21-dog team with harsh conditions across rugged but beautiful terrain. Photo by Kevin Keeler, Bureau of Land Management.
Glacier National Park in Montana

If you like snow, Glacier National Park is the perfect place for you! Mother Nature blankets the landscape in white. As the snow accumulates in Glacier, snowshoeing and skiing are the favorite recreational activities in the park. Even the wildlife come out to play. Photo by Bill Hayden, National Park Service.
Curecanti National Recreation Area in Colorado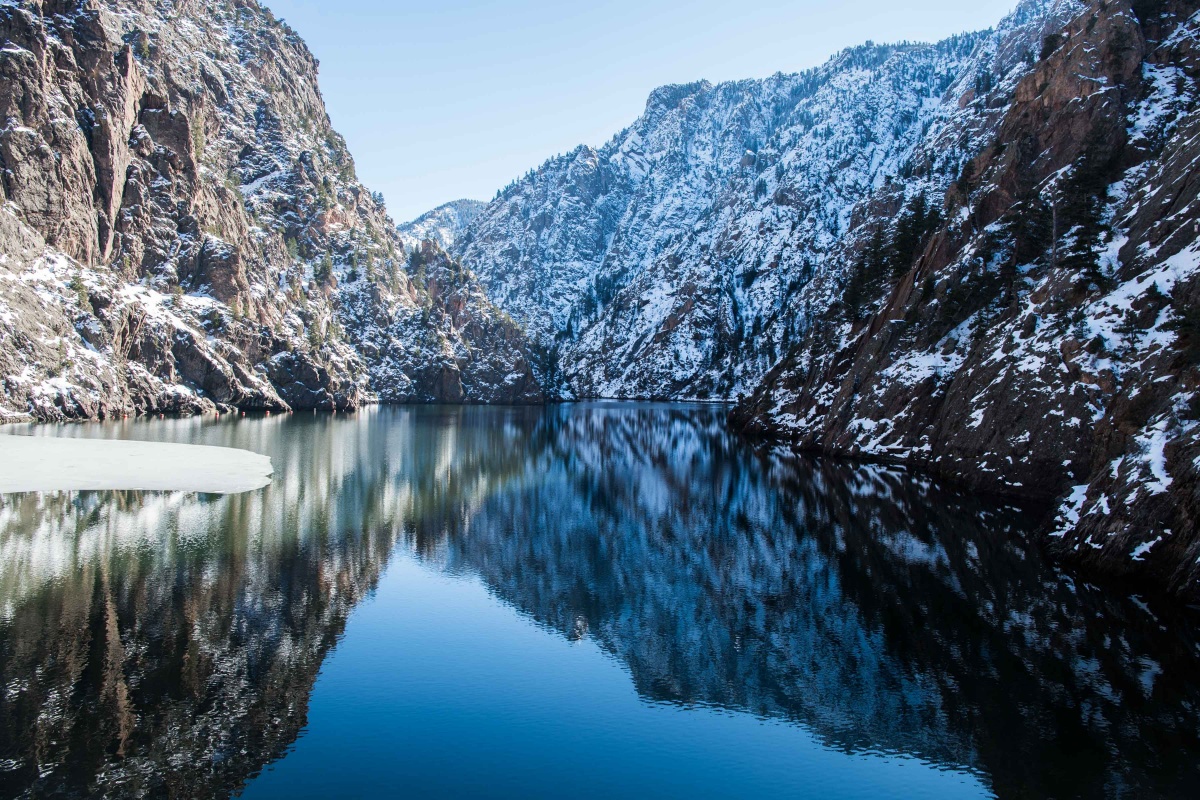 Curecanti National Recreation Area is a series of three reservoirs along the once-wild Gunnison River. The reservoirs that make up Curecanti today are a destination for water-based recreation high in the Rocky Mountains. Best known for salmon and trout fishing, Curecanti also offers opportunities for hiking, boating, camping and bird watching. Photo by Alex Stephens, Bureau of Reclamation.
Yellowstone National Park in Wyoming

Winter at Yellowstone National Park means fewer crowds, frigid temperatures and steaming geyser basins. Skis, snowshoes and snowmobiles become the primary modes of transportation as roads close, rivers and lakes freeze, and snowstorms transform the park into a snowy destination. One of the most amazing winter sights at the park is the ice dam at Lower Falls. Growing over 100 feet tall, it's an astounding natural spectacle. Photo by National Park Service.
Lake Clark National Park in Alaska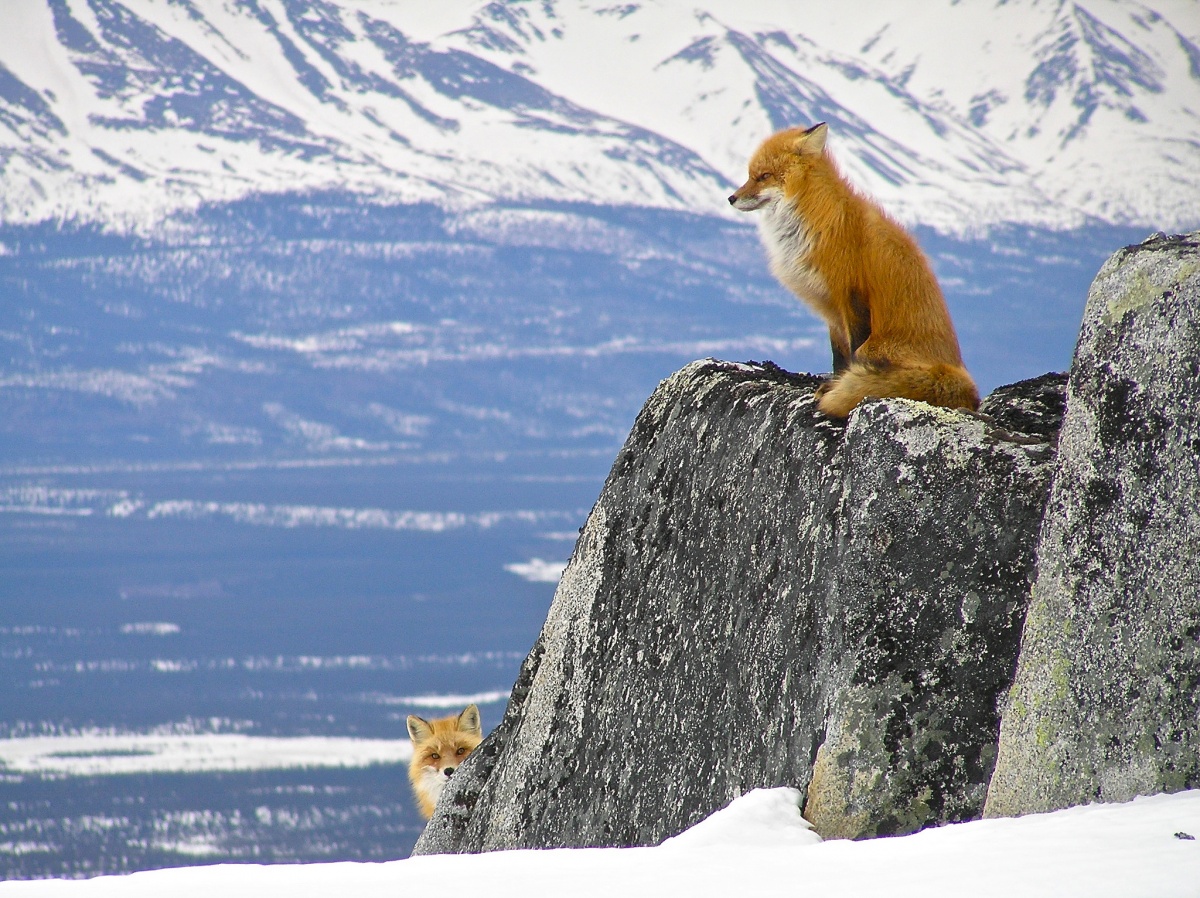 Winter wraps Lake Clark National Park & Preserve in white and blue. Ice fishing and biking are popular activities in winters when the lakes freeze. It's also the perfect place to see wildlife in their natural habitat. Photo of two foxes by National Park Service.
Bear River Migratory Bird Refuge in Utah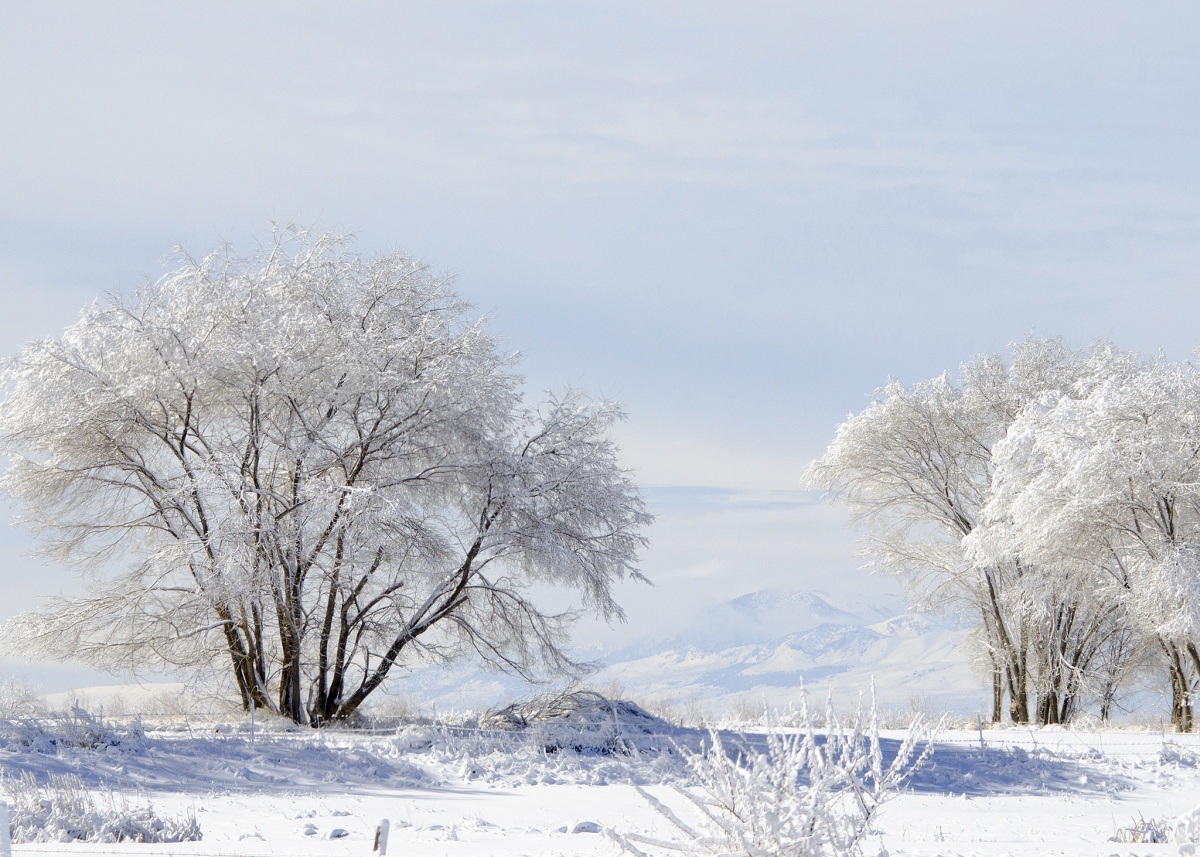 Bear River Migratory Bird Refuge is an oasis for waterbirds and wildlife. The wildlife refuge protects the marshes found at the mouth of the Bear River -- the largest freshwater component of the Great Salt Lake ecosystem -- and provides critical habitat for over 250 species of migratory birds that move through the area annually by the millions to rest and feed. If you visit here in the winter, you can see prairie falcons, bald eagles and hawks searching the frozen landscape for prey. Photo by John Zaker, U.S. Fish and Wildlife Service.
Yosemite National Park in California

Winter is a magical time to visit Yosemite National Park. This quieter season provides opportunities for hiking, playing in the snow and quiet solitude. The silence and beauty of winter at Yosemite is an unforgettable experience as mesmerizing granite formations are dusted with snow and reflected in the glassy surface of the Merced River. Photo by National Park Service.
Where will you explore this winter?
Source: DOI