April 15, 2018 - After the sun goes down, the skies above America's public lands come alive.
Some of the last harbors of dark skies, public lands provide unspoiled views of the stars glittering above. While fewer than 500 stars may be visible at night in urban areas because of light pollution, you can see up to 15,000 stars on some public lands. At public lands across the country, we're working to protect these truly dark skies for visitors to enjoy.
Whether you're an astronomy expert or a lover of night skies, public lands offer up some of the best opportunities to see extraordinary natural lightscapes. Celebrate International Dark Sky Week with some amazing public lands for stargazing and check out five tips for fun and safe stargazing.
Natural Bridges National Monument in Utah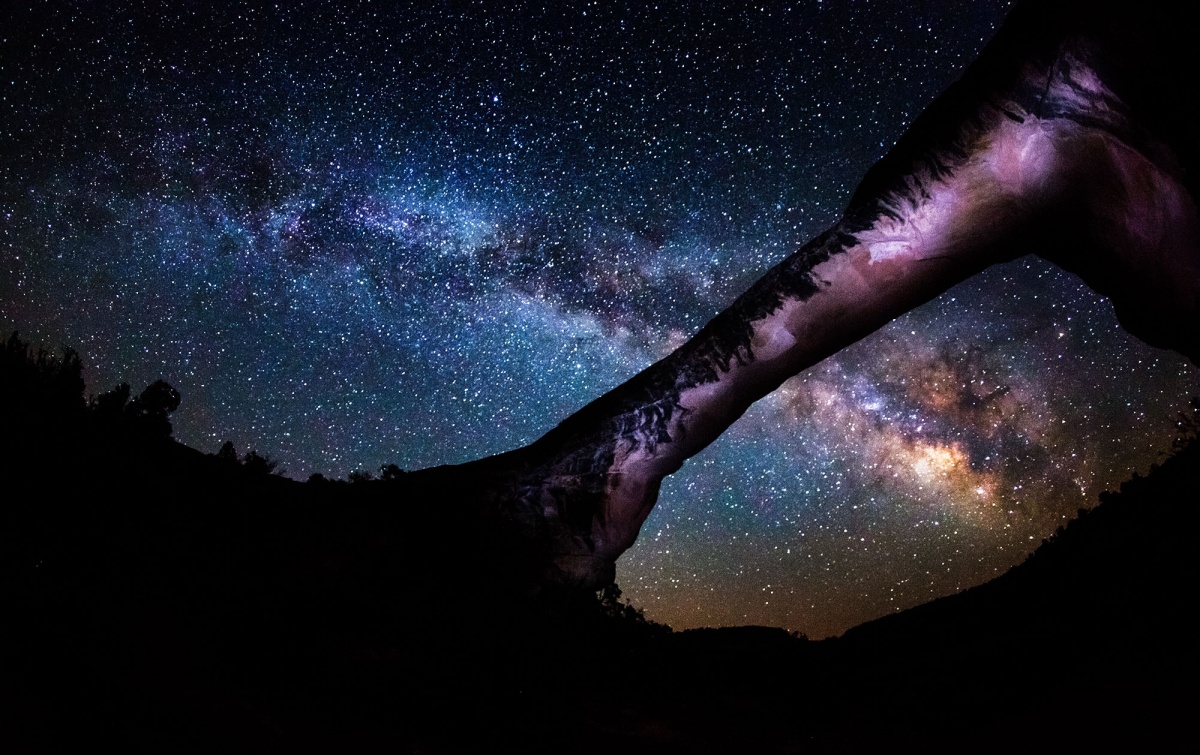 Natural Bridges National Monument in Utah contains three beautiful natural bridges named for the Native Americans who made this area home. At night, the bridges form a window into the sky, giving visitors a view of thousands of stars that are bright enough to cast a shadow. Natural Bridges was named the first International Dark Sky Park in 2007 for its work preserving the night sky and educating the public about light pollution. For those first time stargazers, the Milky Way appears with the naked eye as a band of dense stars and faint white cloud-like gases arcing across the sky. A word of note: camera light sensors can see more nighttime light -- revealing the greater universe -- so don't expect to be able to see the colors and quite the number of stars that are captured in astrophotography. Photo of the Milky Way and Owachomo Bridge by Manish Mamtani (www.sharetheexperience.com).
John Day Wild and Scenic River in Oregon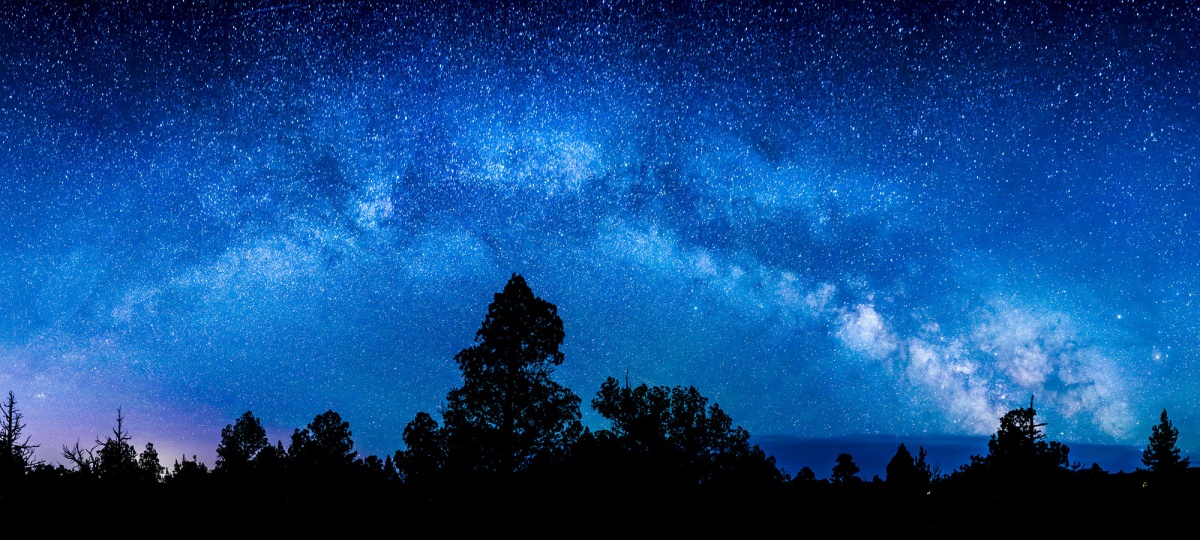 The John Day Wild and Scenic River is the longest undammed river in Oregon. It offers year-round recreation opportunities -- from whitewater boating and camping to fishing and hunting with snowmobiling and skiing in the winter. It's also an exceptional place for stargazing.The best time to see the Milky Way here (and other places in the Northern Hemisphere) is March through October when the brightest part of the Milky Way's core is visible. Beginning in March, early risers can view the Milky Way in the pre-dawn hours rising in the southeast. By mid-summer, it will arc from the south directly overhead once the sky is completely dark. By October, it will be setting towards the southwest in the early nighttime hours. To maximize the number of visible stars, plan your viewing times when the sky is darkest -- about two hours after sunset until two hours before dawn. This image was taken looking southeast about two hours after sunset in late June and shows the arm of the Milky Way rising in the east. Photo by Bob Wick, Bureau of Land Management.
Great Basin National Park in Nevada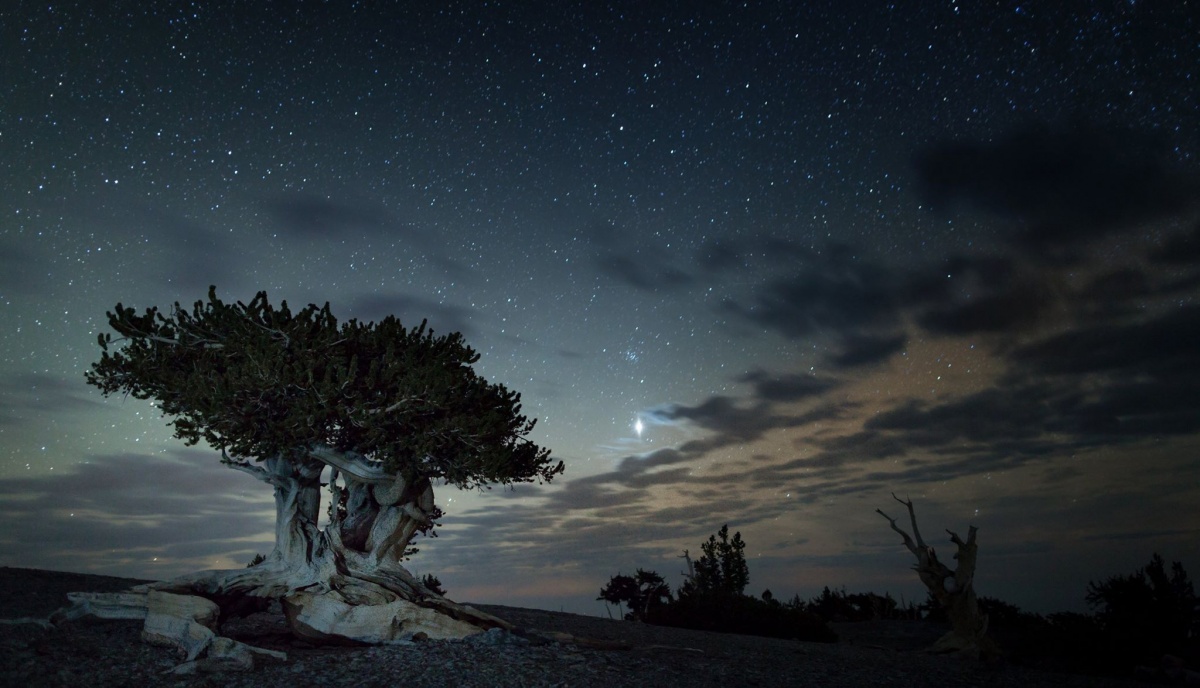 Half of the park is after dark, and nowhere is that more true than Great Basin National Park. Low humidity and minimal light pollution combined with the park's high elevation provide park goers a unique window into our galaxy. On a clear, moonless night, you can see thousands of stars, five of our solar system's eight planets, star clusters, meteors, man-made satellites, the Andromeda Galaxy and the Milky Way with the naked eye. Bristlecone pines -- some that were saplings when light left distant stars thousands of years ago -- are a unique place for stargazing. No matter where you choose to stargaze, be sure to bring extra layers as nights in the mountains can be cool at this Nevada park. Photo by National Park Service.
Morley Nelson Snake River National Conservation Area in Idaho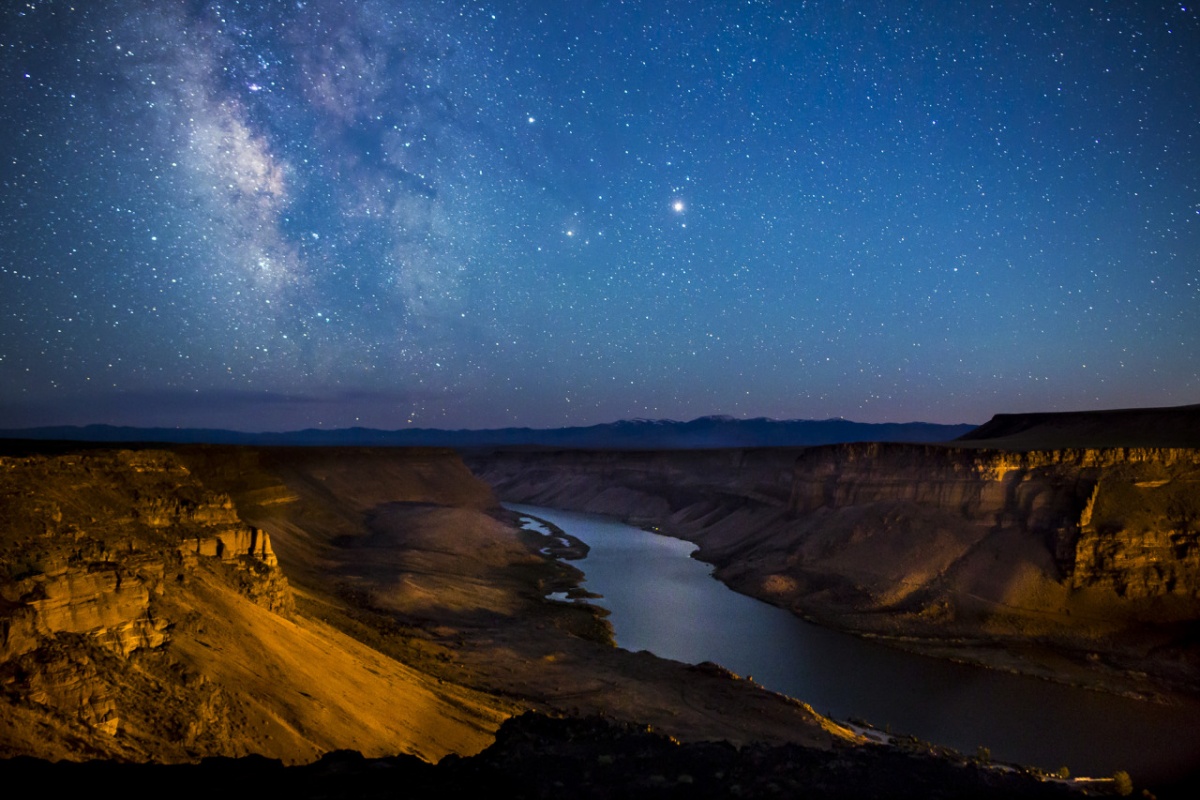 The Snake River winds through Morley Nelson Snake River Birds of Prey National Conservation Area in Idaho. Visitors come for the scenic and wildlife viewing, and stay for the starry skies. The area is home to the greatest concentration of nesting birds of prey in North America. Some 800 pairs of eagles, hawks and falcons come each spring to mate and raise their young. As day turns to night, the sky lights up with thousands of stars. The area is "nature in the rough," with few public facilities, so come prepared for adventure and solitude. Photo by Bob Wick, Bureau of Land Management.
Voyageurs National Park in Minnesota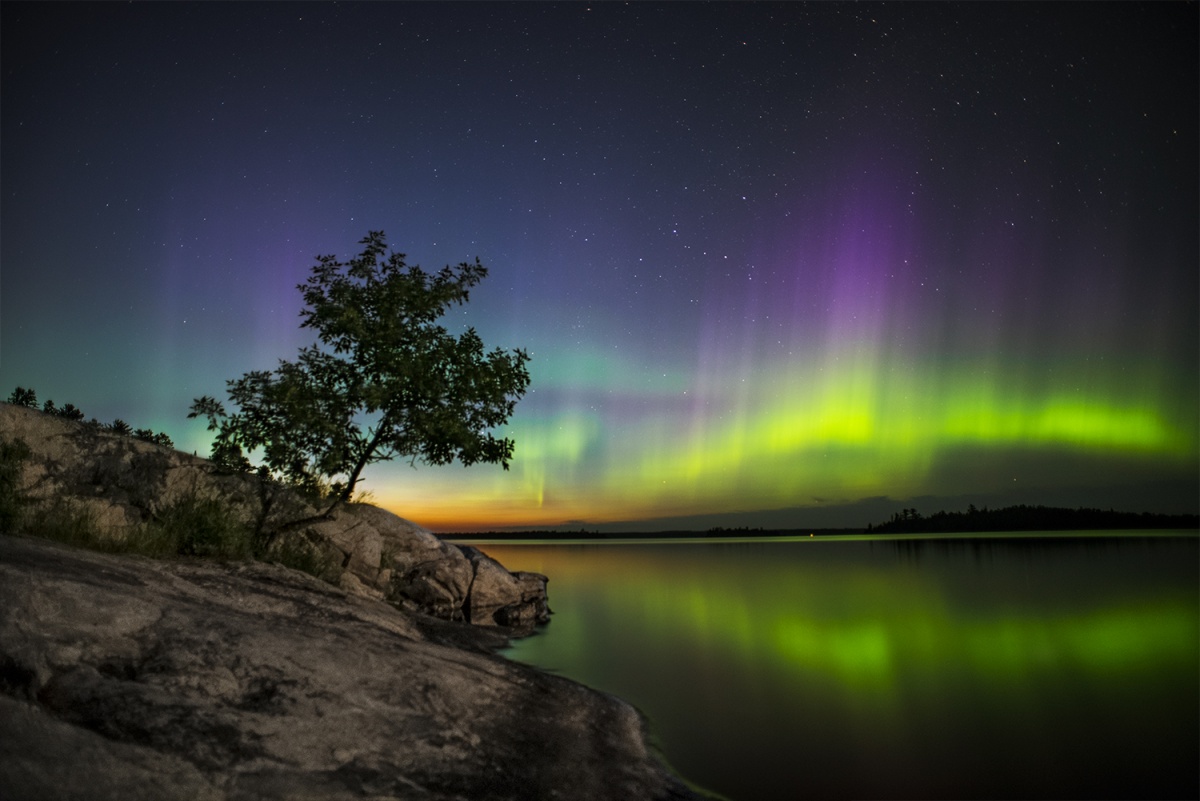 The night sky above Voyageurs National Park in Minnesota is filled with wonder. From the moon to Mars, the Milky Way to meteors, the scene above can be as stunning as the landscape below -- especially during a mesmerizing appearance of the Northern Lights. Surrounded by miles of lakes and wilderness area, the skies above Voyageurs are free of excessive light pollution, making it a perfect place to see the night sky as the Anishinade did -- dark and awe-inspiring. Photo by Sam Brueggeman (www.sharetheexperience.org).
Flaming Gorge Reservoir in Wyoming and Utah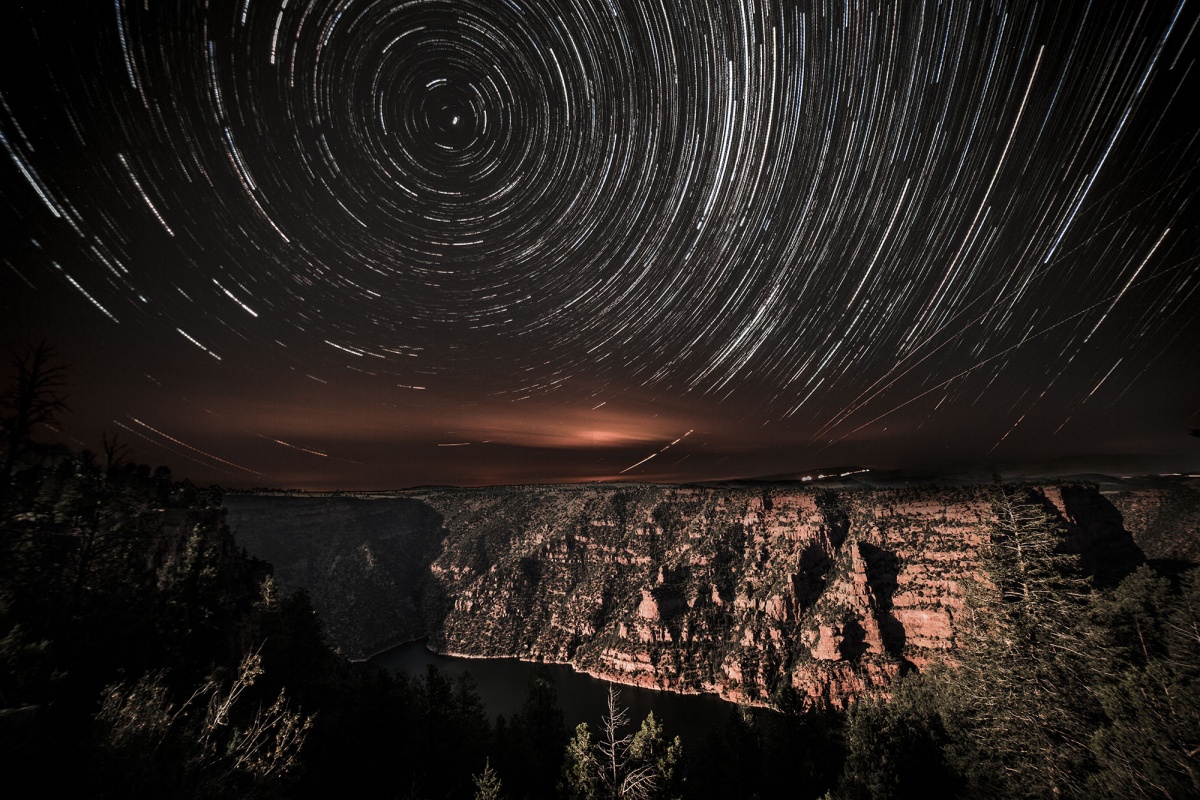 The Flaming Gorge Reservoir is located on the border between Utah and Wyoming and provides vital water storage and hydropower generation to the area. The reservoir's dam stands an impressive 502 feet tall but is hard to compare to the beauty and grace of the Green River's sharp cliffs that are part of Flaming Gorge National Recreation Area. Here, you can fish, boat, windsurf, water ski, swim and more. When the sun goes down, stick around for exceptional stargazing opportunities. Remember that stars twinkle and planets don't. Photo Meyer Lewin (www.sharetheexperience.com).
Oregon Islands National Wildlife Refuge in Oregon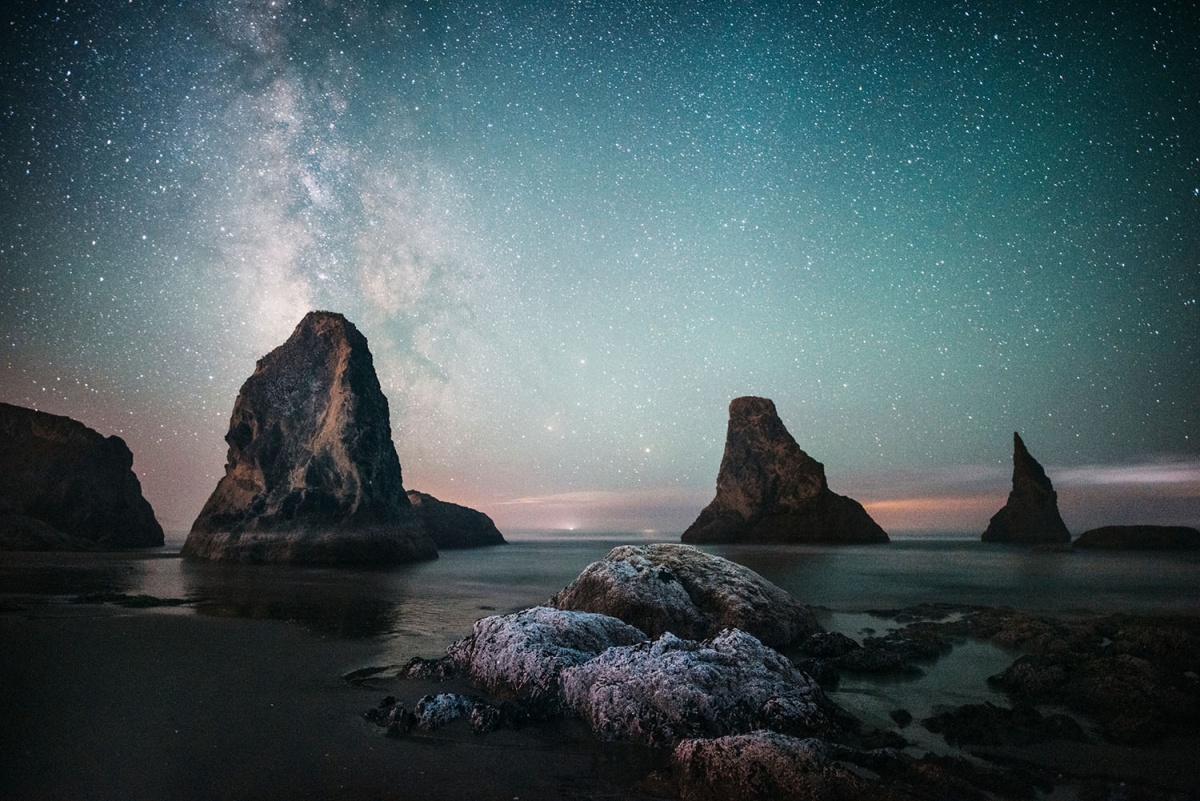 Spanning miles of Oregon coastline, the wilderness islands and windswept headlands of Oregon Islands National Wildlife Refuge are celebrated for their abundant wildlife, rugged grandeur and amazing night skies. A word of warning: don't forget to look down from time to time. Coastal areas, with their steep cliffs, strong currents and heavy surf, can be extremely dangerous. Exercise caution during your visit, and be sure to check area rules before venturing out as some sites are only open for day use. Photo by Matthew Hanna (www.sharetheexperience.org).
Joshua Tree National Park in California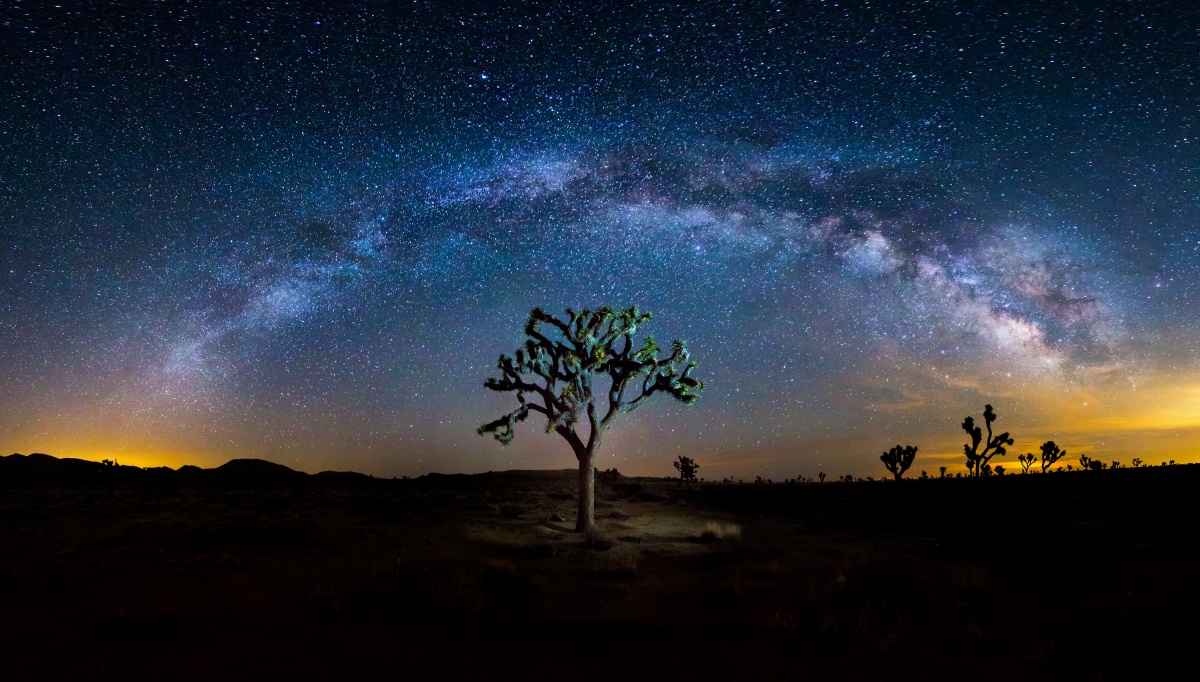 Joshua Tree National Park is one of the newest parks to earn the International Dark Sky designation. Within a few hours drive of over 22 million people, this Southern California park is where many come to discover the starry night and views of the Milky Way for the first time. Park goers can see a wide diversity of wildlife and plants, including the famous Joshua Tree, and incredible night skies. Check out Joshua Tree's tips for where to stargaze in the park and how to photograph the night sky. Photo Manish Mamtani (www.sharetheexperience.org).
Cape Cod National Seashore in Massachusetts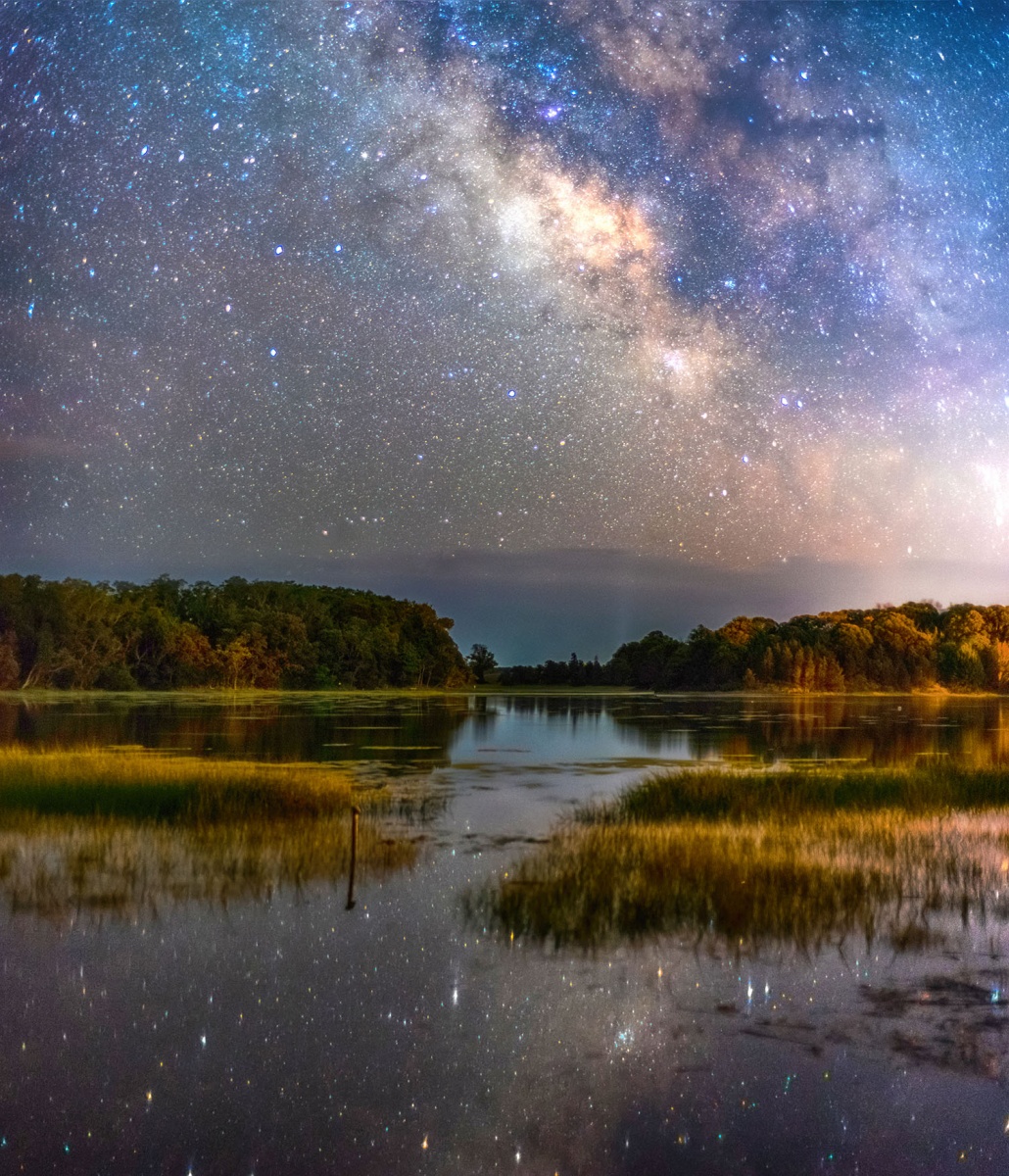 If you do some research and planning, you can find good stargazing near urban areas. With darker skies over ocean waters, Fire Island National Seashore near New York City and Cape Cod National Seashore located a short drive from Boston are great places to watch stars twinkling overhead. Located on the outer portion of Massachusetts's famous peninsula, Cape Cod National Seashore's 44,600 acres encompass a rich mosaic of marine, estuarine, freshwater and terrestrial ecosystems. When you aren't stargazing at night, you can explore pristine sandy beaches, lighthouses, cultural landscapes and wild cranberry bogs during the day. Photo of the Milky Way rising over a salt pond by Jatin Thakkar (www.sharetheexperience.org).
Cache Creek Wilderness in California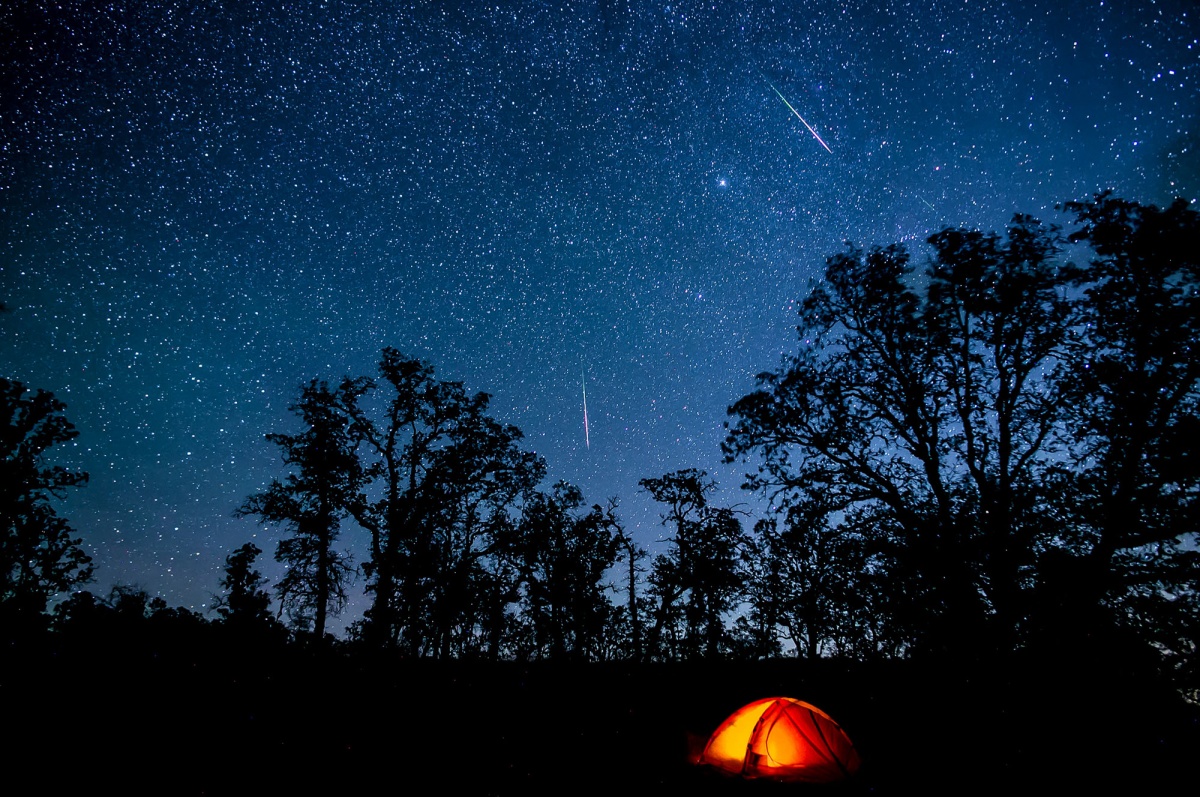 Love stargazing? Keep your eyes peeled for celestial events, such as meteor showers, planet visibility and lunar eclipses. At Cache Creek Wilderness, after a day of hiking the trails or rafting the whitewater, find a quiet spot for primitive camping and out-of-this-world stargazing. Plan a trip here in early August to coincide with the Persieds Meteor Shower. Photo from a few years ago by Bob Wick, Bureau of Land Management.
Mount Rainier National Park in Washington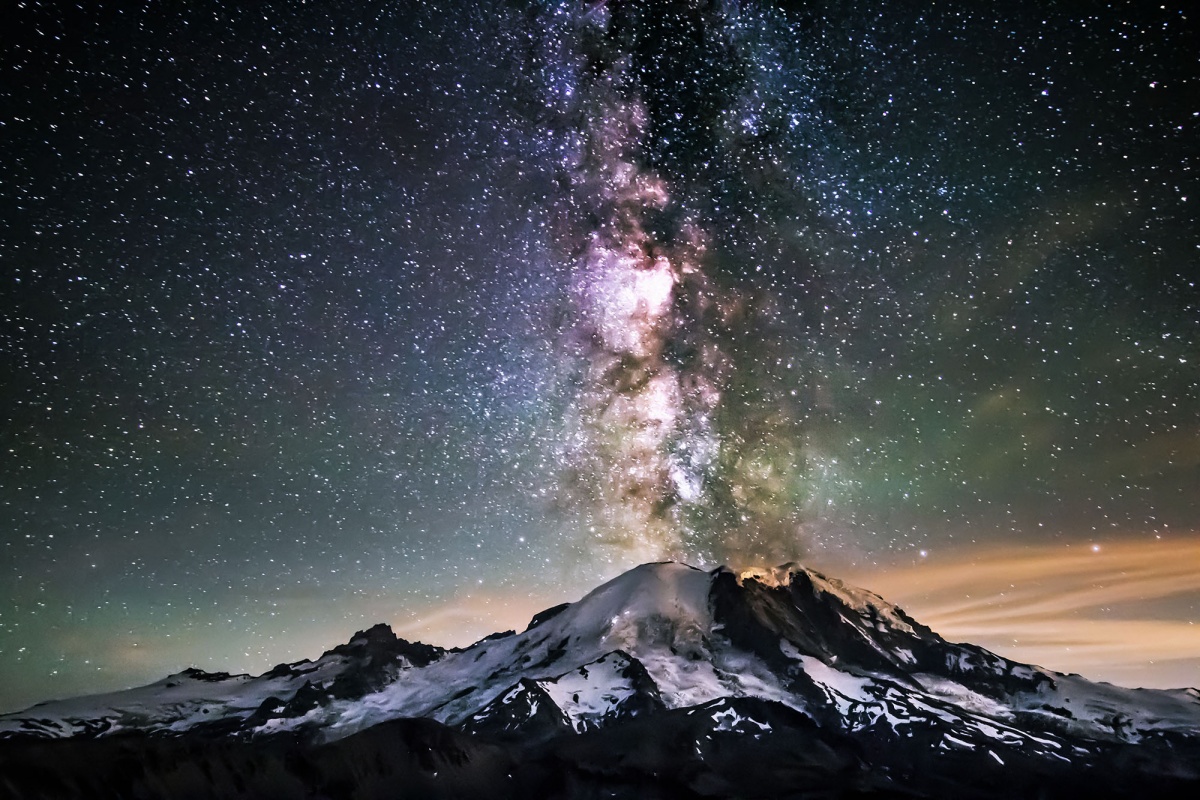 Mount Rainier National Park's majestic peak towers over 14,000 feet tall, but that isn't the only scenic vista the park protects. It is also the steward of the night sky, ensuring visitors can experience the wonder of the heavens above. Pictured here, the Milky Way erupts from the mountain. If you look closely, you can see climbers getting an early start on reaching the summit. Photo by Evan Eremita (www.sharetheexperience.com)
White Mountains National Recreation Area in Alaska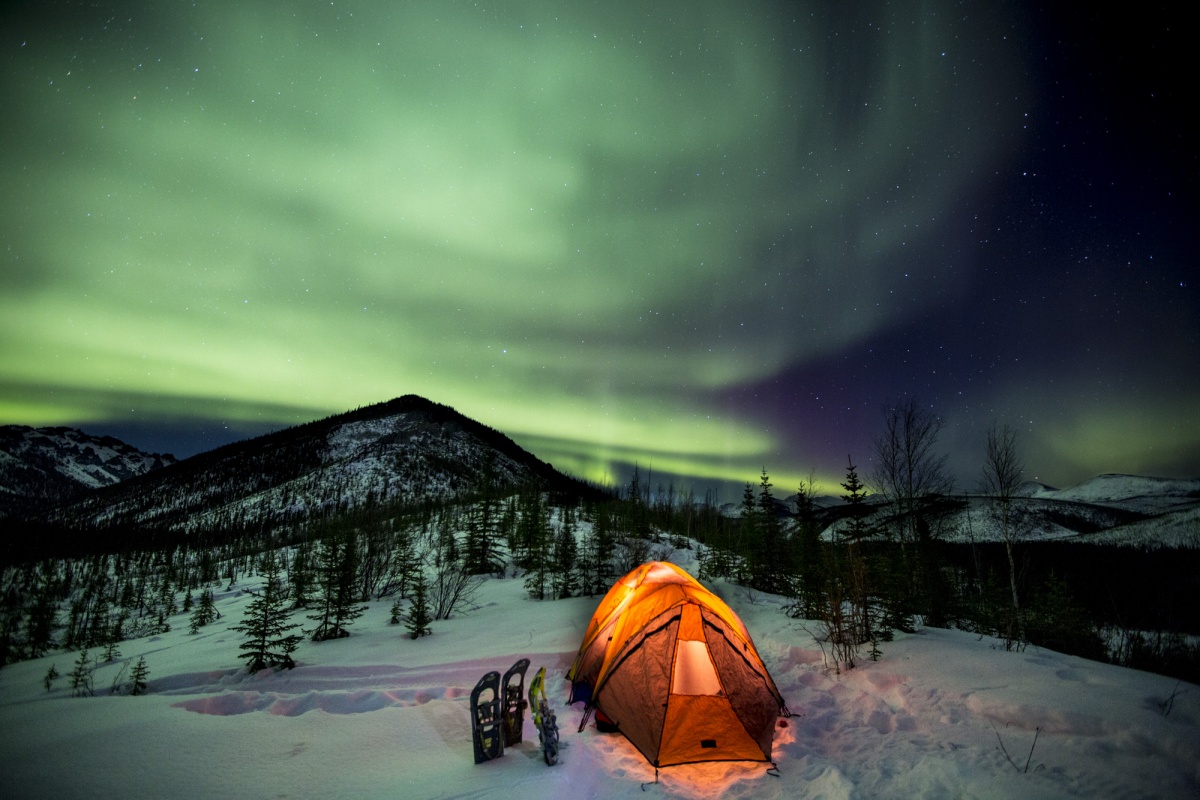 Closely associated with Alaska nights, the Northern Lights snake through the skies above White Mountains National Recreation Area. Aside from watching the aurora dance overhead and camping, this area's more than 240 miles of maintained winter trails offers great recreation opportunities -- from cross-country skiing and snowshoeing to dog sledding and snowmobiling. No matter your activity, you can find breathtaking views, and on a clear night, the Northern Lights illuminating the skies. While the galaxy's spiral arm might not be visible in winter, the cold winter air holds less moisture, making stargazing easier. Word of warning: Don't plan a trip to view the northern lights from May-July in Alaska as the sky never gets dark enough during Alaska's long summer days. Photo by Bob Wick, Bureau of Land Management.
Yellowstone National Park in Wyoming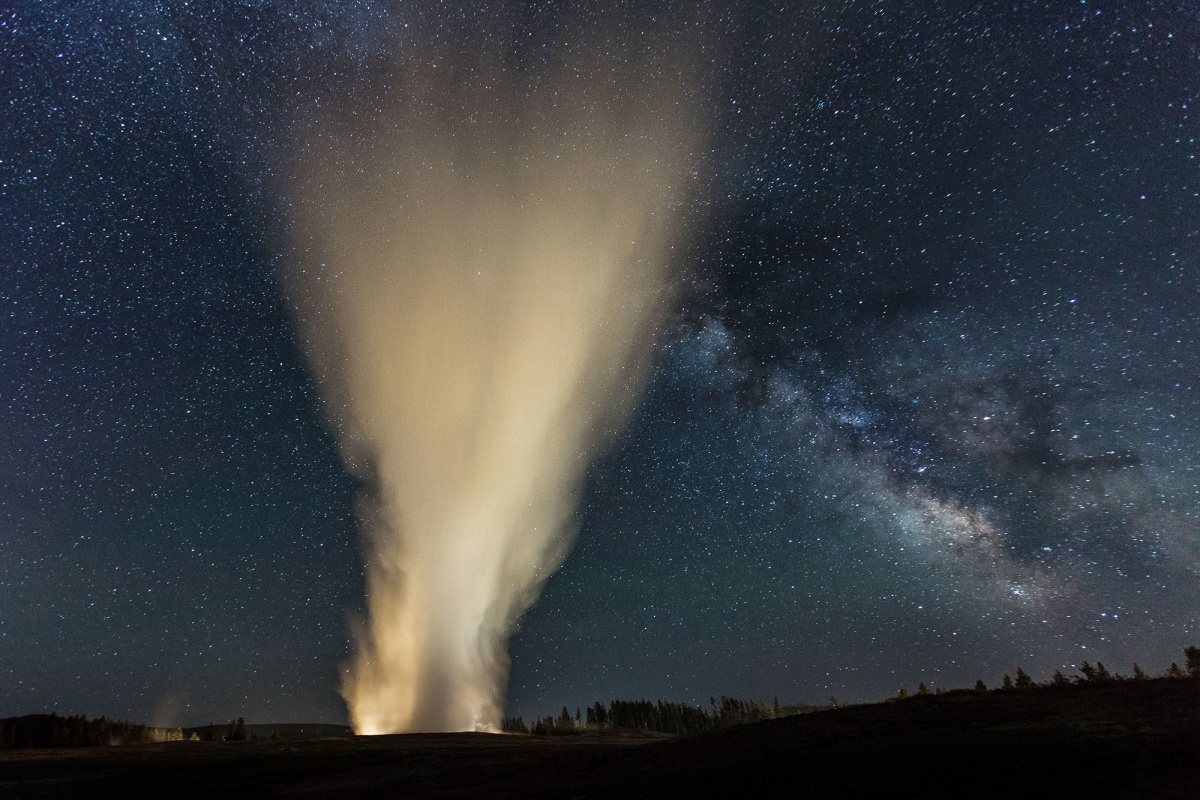 Old Faithful's multiple daily eruptions draw massive crowds at Yellowstone National Park in Wyoming, but the real magic is seeing Old Faithful at night. On a moonless night at Old Faithful, a river of stars meets a fountain of water. Don't forget to look up the moonrise and moonset times -- even a quarter moon will wash out many of the fainter stars. Photo by Neal Herbert, National Park Service.
Badlands National Park in South Dakota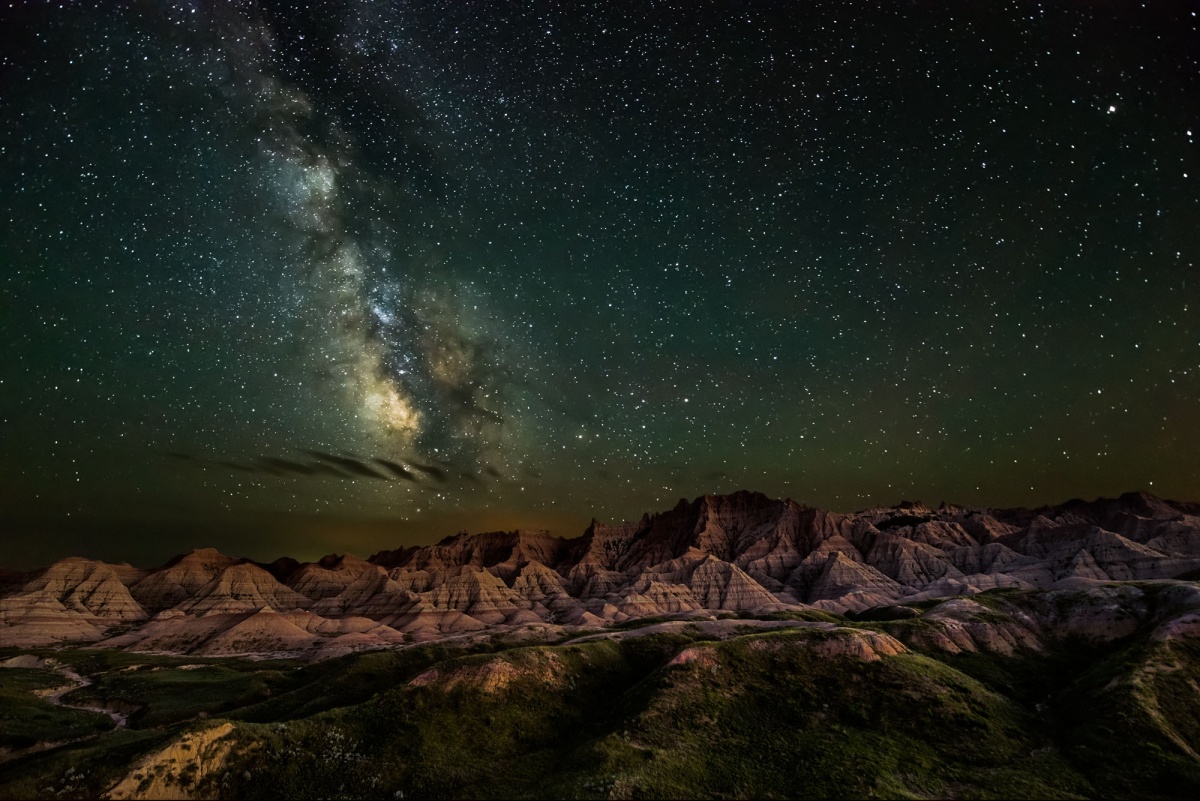 Called "The Badlands" by nineteenth-century French trappers because of the difficult terrain to cross, Badlands National Parkis anything but bad. The South Dakota park offers views that can stretch over 50 miles and the isolation required to see some killer night skies. Night sky views include not only galaxies but star clusters, nebulae, planets and moons. Visitors are also treated to fly-overs by numerous satellites and the International Space Station. Just let your eyes adjust to the dark for about 20 minutes and be sure to bring a red flashlight read your star chart. Photo Erik Fremstad (www.sharetheexperience.com).
Hawai'i Volcanoes National Park in Hawaii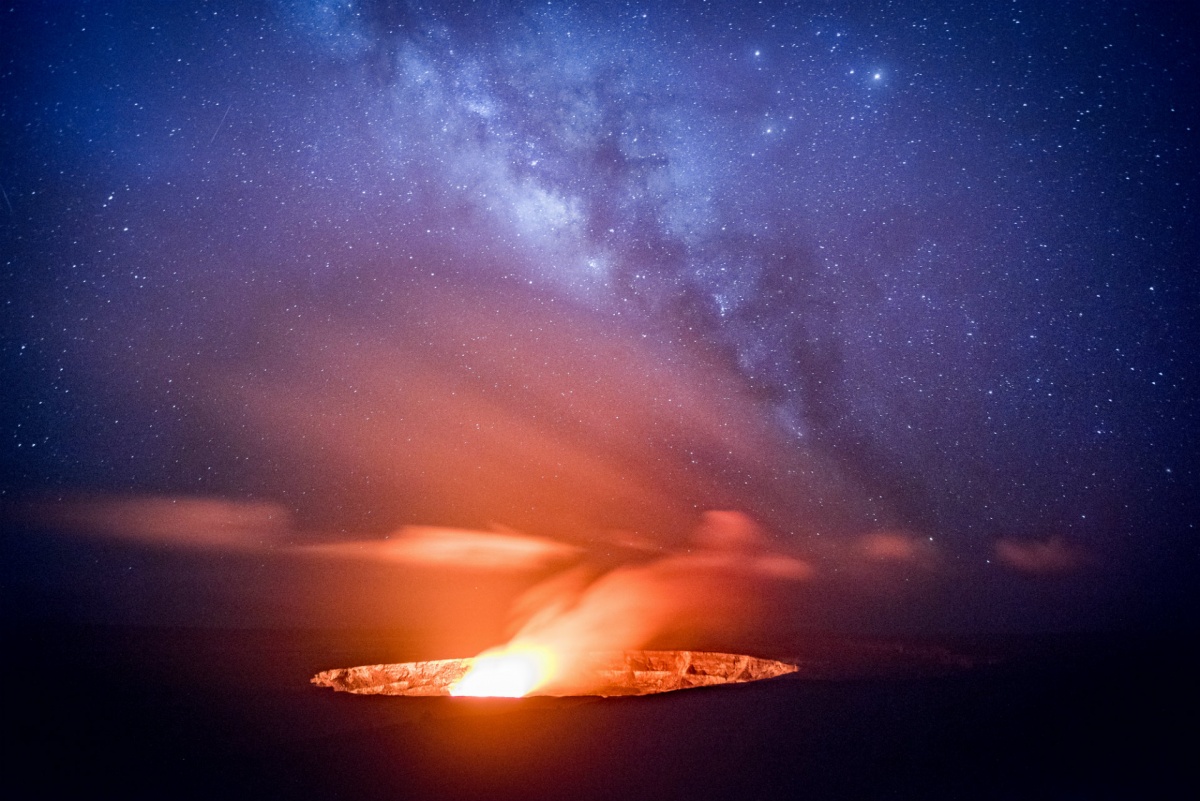 Experience the heartbeat of a volcanic landscape at Hawai'i Volcanoes National Park. This park reveals steam vents, lava flows, summits and rift zones of two of the world's most active volcanoes. Witness this amazing power while watching the stars shine overhead. Photo by Karl Rouwhorst (www.sharetheexperience.org).
Acadia National Park in Maine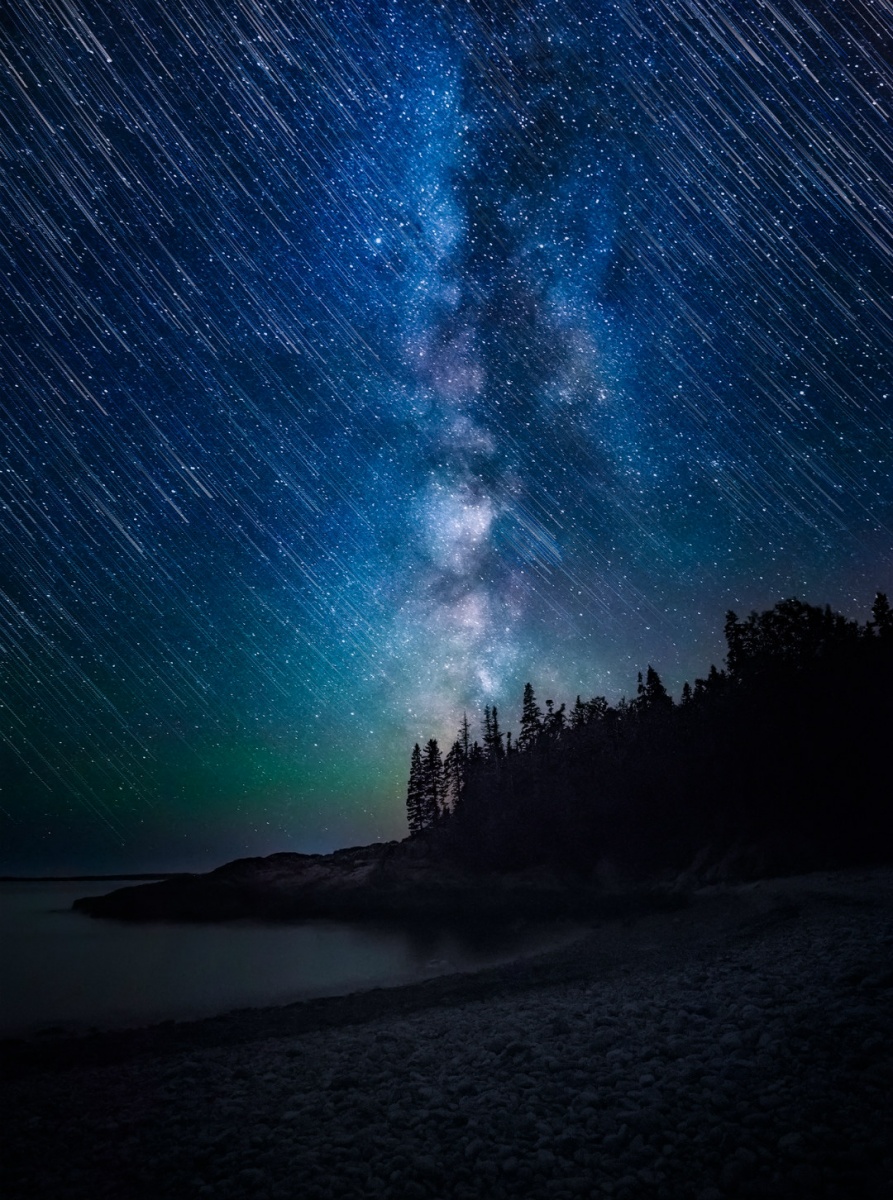 From its rocky coastline to the top of Cadillac Mountain, Acadia National Park in Maine will take your breath away. Day or night, the sights and sounds of the park give visitors memories they'll cherish for a lifetime. Famous for sunrise, the park is also a terrific place to enjoy the night sky. Don't have a star map? Check out one of the several mobile apps that allow you to locate the Milky Way, planets and constellations on your phone. Photo of the Milky Way from Little Hunters Beach by Joshua Snow (www.sharetheexperience.org).
Where is your favorite place to stargaze?
Source: DOI