May 17, 2018 - Washington, D.C. – On Wednesday, Congressman Jim Costa (CA-16) again crossed party lines in the House Natural Resources Committee to support two bills that could dramatically improve the reliability and quantity of Valley water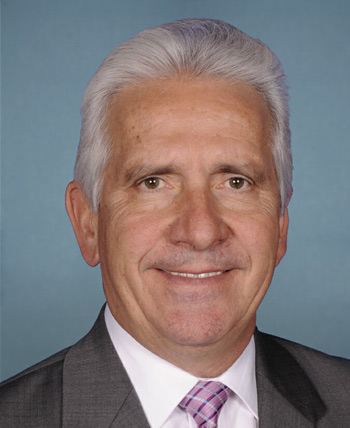 supplies.
The first bill – introduced by Representatives Ken Calvert (CA-42) and Costa (CA-16) – aims to bring all Endangered Species Act regulation of species that have a portion of their lifecycle in the ocean, like salmon, under a single regulating government agency. By doing so, H.R. 3916, aptly named the FISH Act, would eliminate the redundant and often conflicting requirements that commonly result from multiple agencies regulating water resources for the restoration of a single species without taking other factors, including water resources or other species, into account.
Shasta Dam fell victim to such contradictory requirements in 2016, when the U.S. Fish and Wildlife Service considered requiring water be released from the Dam to supplement flows for Delta smelt, while the National Marine Fisheries Service was mandating that same water be held behind Shasta Dam to provide additional cold water for salmon rearing. Costa called this contradiction "absurd" before noting that regulation by a single agency "would make much more common sense" and that "San Joaquin Valley water agencies, the Metropolitan Water District and the Association of California Water Agencies support this."
Congressman Jim Costa also advocated for support of H.R. 4419, a bill introduced by Rep. Dan Newhouse (WA-4) which would streamline the process for creating or expanding water projects by the Bureaus of Reclamation and Indian Affairs. This legislation would dramatically reduce the amount of time it takes to complete such water projects by limiting the project review phase to three years and a cost of $3 million dollars. This includes the expansion of Shasta Dam, which has been stuck in the "feasibility study" step of the process since 2010. It would also apply to feasibility studies for Temperance Flat Dam and a raise of San Luis Reservoir.
"Eight years of delay in completing storage facility studies is simply inconsistent with the challenges facing California today," stated Rep. Costa, directly speaking to the expansion of Shasta Dam. "This legislation would address this and provide Congressional methodology to more rapidly construct the needed water storage in California, and across the nation. If we can't do it in the fifth largest economy in the world – and manage our water supply – god help the rest of the planet."
Source: Congressman Jim Costa