April 17, 2022 - SACRAMENTO, Calif.—The California Office of Historic Preservation (OHP) is pleased to announce the seven recipients of the 2021 Governor's Historic Preservation Awards. Each of the projects represents exemplary achievements preserving California's richly diverse heritage.
Established in 1986, the Governor's Historic Preservation Awards program recognizes the innovation, creativity and dedication that are at the heart of the efforts to preserve California's richly diverse heritage. The program is distinguished from other preservation awards in two important respects: It emphasizes involvement by community groups, and it recognizes a broad array of preservation activities, from building rehabilitation to archaeology, education and preservation planning.
"Especially in these ever-challenging times, we are proud to honor citizen efforts to celebrate and commemorate traditions, places and buildings that are the rich mosaic of our shared heritage," said State Historic Preservation Officer Julianne Polanco.
This year's award recipients range from a public-private collaboration to preserve a building with strong ties to the life and history of a community, to interpreting through video, exhibits and social media, the human heritage of an iconic California property.
Below is a brief description of the 2021 award recipients:

California State Parks Director Armando Quintero and the State Historic Preservation Officer will present the awards on behalf of Governor Gavin Newsom to seven project award recipients on Wednesday, April 27, in Sacramento. The public is invited to view the awards ceremony on OHP's Facebook page and YouTube channel.
The OHP is now accepting nominations for the 2022 Governor's Historic Preservation Awards. Nominations are welcomed for projects, groups or individuals demonstrating excellence in all areas of historic preservation, including resource restoration and preservation; civic efforts to preserve, interpret and educate about community history; and preservation of places, traditions and objects of cultural, historical and archaeological significance. The deadline for nominations is Friday, May 6, 2022.
To learn more about the 2021 award recipients and download nomination forms and instructions for the 2022 awards, please visit the OHP website at ohp.parks.ca.gov/GovernorsAwards.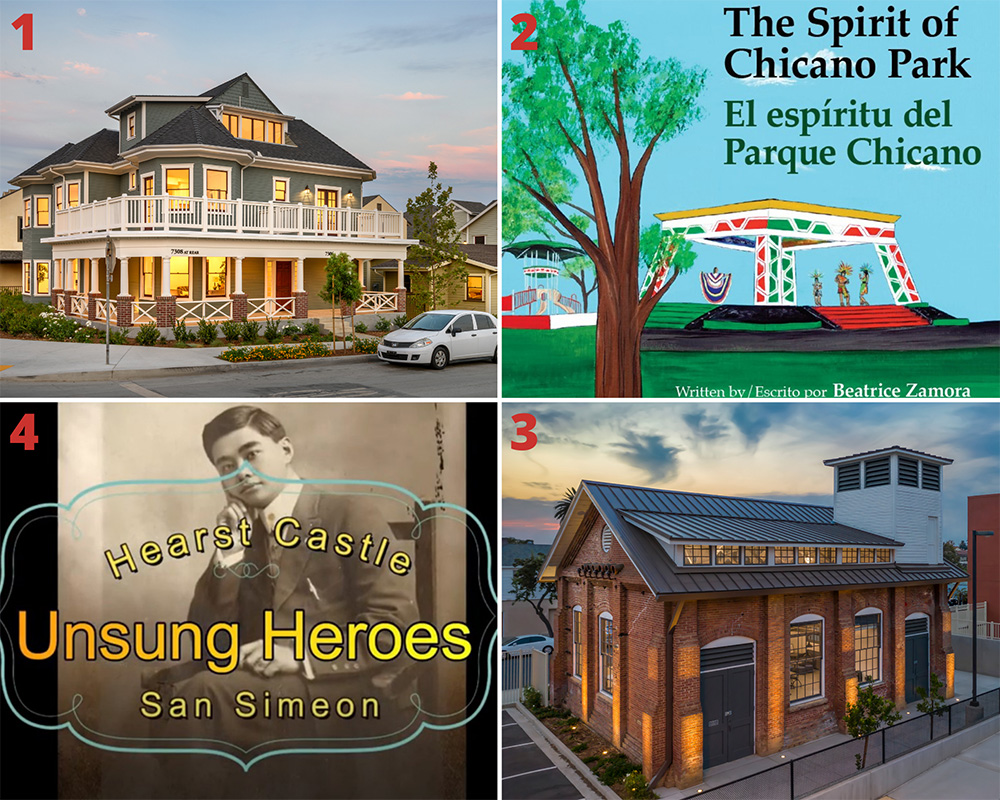 Photo 1: Guilford Hall-Penn Court. Photo from Stephan Schafer/Whittier Conservancy. Photo 2: "The Spirit of Chicano Park."Photo from Tolteca Press. Photo 3: Pacific Electric Railway Substation 14. Photo from RMA Photography. Photo 4: Unsung Heroes of Hearst Castle. Photo from Hearst San Simeon State Historical Monument.
Source: CA. State Parks