U.S. Rep. Jeff Denham meets with graduate student Boe Mendewala and Chancellor Dorothy Leland.

January 20, 2018 - By Brenda Ortiz - UC Merced Chancellor Dorothy Leland united with members of the Presidents' Alliance on Higher Education and Immigration in Washington, D.C., earlier this week to call on Congress to pass a permanent legislative solution to protect young immigrants known as Dreamers.
The Alliance's call to action is in response to the Trump administration's decision to end the Deferred Action for Childhood Arrivals (DACA) program last fall. The program provides work authorization and protection from deportation to individuals who came to the United States as young children and allows them to attain higher education, serve in the military, and contribute even more fully to their communities.
"The repeal of DACA has created a dire emergency for Dreamers across the country, and for the millions of Americans who live, work and study with them every single day," said Leland, a founding member of the Alliance. "As leaders in higher education, we see firsthand the incredible potential Dreamers have to make a positive impact on our economy and in our communities, and we strongly endorse a permanent legislative solution for Dreamers, who are at a critical point in their lives."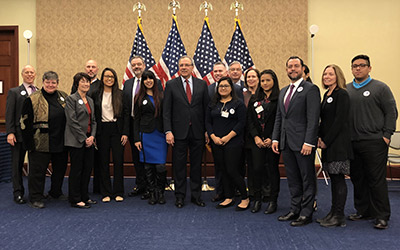 (Left) College and university leaders from across the country visited the U.S. Capitol calling for action in support of Dreamers.
Graduate student Boe Mendewala, who is one of nearly 600 undocumented students at UC Merced, accompanied Leland on the trip. They met with U.S. Reps. Jim Costa (D-Fresno) and Jeff Denham (R-Turlock), U.S. Sen. Kamala Harris, and staff members of Sen. Dianne Feinstein, and Mendewala shared how much DACA has meant for her and her future plans. She grew up in Fullerton after arriving legally to the United States from Mumbai, India, but her family's visas expired.
Dreamers have strong bipartisan support in Congress and throughout the country. According to an independent poll recently conducted by Quinnipiac University, 86 percent of American voters, including 76 percent of voters who identify as Republican, support providing Dreamers a permanent pathway to staying in the United States.
"We urge Congress to act now. To delay another week, even, is to put more lives in jeopardy and to leave young people uncertain of their futures," Leland said. "With 122 individuals losing protection every day, already, we cannot afford to wait any longer."
The Alliance to date includes 234 American college and university presidents and chancellors from across the country. The organization supports immigration policies that create a welcoming environment for immigrant, undocumented and international students so that our nation's higher education institutions can continue to attract the best and brightest from around the world, compete globally for talent, spur innovation and growth, and reflect our history and strength in diversity as a nation of immigrants.
Source: UC Merced