May 24, 2017 - PLYMOUTH, Calif. – Wild mustangs and burros from public lands in northern California and Nevada are headed for the Amador County Fairgrounds in Plymouth, Calif., where they will be available for public adoption Saturday and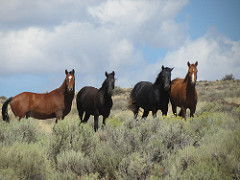 Sunday, June 3 and 4. Adoption preview starts at 2 p.m. on Friday, June 2.
The Bureau of Land Management (BLM) will offer 20 mustangs including young mares, yearling fillies, yearling geldings and six wild burros. Adoptions will be held from 8 a.m. to 2 p.m. Saturday, with an hour of silent bidding starting at 9 a.m. Adoptions continue from 8 a.m. to 4 p.m. on Sunday. Animals not adopted during silent bidding will be available for a $125 adoption fee on a first-come, first-served basis.
"These horses and burros are healthy and ready to train," said Doug Satica, manager of the BLM's Litchfield Corrals near Susanville. "The animals have received vaccinations for common equine diseases, including rabies and West Nile virus. We provide complete health care records."
To qualify, adopters must be at least 18 and United States residents and must provide corrals offering least 400 square feet per animal. The BLM requires that corrals be enclosed by six-foot fences built of pipe or boards. Adopters can house horses less than 2 years old in corrals surrounded by five-foot fences. Adopters should not release wild horses and burros into large pastures until the animals can be captured, haltered and led. The BLM gathered these animals from public land ranges to manage wild populations.
Adopters will receive their horses or burros' title after providing a year of good care.
Adoptees can also participate in Gold Country Rancher's Days, a celebration featuring food, games and ranch-themed entertainment.
Source: BLM